Woking at Home as a Freelancer: How to Promote Your Services Effectively
The world of freelancing is becoming increasingly competitive, and standing out from the crowd is key to attracting new clients. Word of mouth can only get you so far in business, and to really grow your client base, you need to start actively promoting your services as a freelancer. In this blog post, we'll discuss some simple yet effective ways that you can start promoting yourself to potential clients. We'll also discuss a specific tool you can use, business cards, to help you spread the word about your services.
The Importance of Self-Promotion for Freelancers
For freelancers, self-promotion is crucial in attracting new clients and growing your business. Unlike traditional employees, freelancers don't have the benefit of a company marketing team behind them. This means that you need to promote your services yourself and remember, no one else is going to do it for you. Self-promotion can help to establish you as an authority in your field and generate more leads for your business.
How to Do It?
One of the most effective ways to promote your services as a freelancer is to improve your online presence. Whether you're a graphic designer, writer or digital marketer, having a website is essential. Your website should showcase your work, services, and potential clients should be able to contact you easily. In addition to a website, using relevant social media platforms such as LinkedIn, Twitter, and Instagram can also help you to reach a wider audience.
Attend Industry Events
Attending industry events can help you to network with other like-minded individuals and potential clients. Don't be afraid to introduce yourself and start a conversation with someone new. By doing this, you may find new clients who are looking for someone with your skills and experience.
Join Online Communities
Joining online communities related to your niche can also help to put you in front of potential clients. You can offer advice and opinions in discussions, show off your skills, and connect with others in the industry. This can help build credibility and establish yourself as an authority on a particular topic.
Reach Out to Past Colleagues or Connections
Don't underestimate the power of your existing connections. Former colleagues or managers could be potential clients or may be able to refer you to someone who is looking for services in your field. Reach out to them and let them know that you're looking for new clients.
Use Traditional Marketing Techniques Like Business Cards
Sometimes the traditional ways of marketing yourself can be the most effective. Business cards are a low-cost and memorable way to promote your services. They can include your website URL, social media handles and phone number. When you meet potential clients or attend networking events, be sure to take business cards with you.
Don't Be Scared to Send Cold Emails
Sending a cold email to a potential client can seem daunting, but it can also be one of the most effective ways to get new business. Be sure to research the company and tailor your message to their needs. Keep it concise, include your services and how you can help them, and include a call-to-action to take the next step.
As a freelancer, promoting your services is essential to growing your business. Don't be afraid to put yourself out there, and remember; self-promotion is key to success in the freelance world.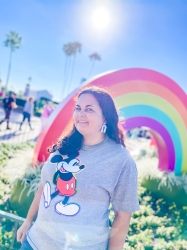 Latest posts by Krystal | Sunny Sweet Days
(see all)