Top 6 Home Improvement Tips that Will Transform Your Home Completely
Everybody wants to own a magazine-worthy kind of home. However, not everyone can afford the costly renovations required every few years to fit the current market style, but there are a few things you can do to improve your home without breaking the bank. If you're looking to spruce up a few areas in your home, here is a run-through of the top 6 home improvement tips that will help transform your home completely.
Do Your Homework
Like any other serious project, having a plan helps streamline your project and prevent costly mistakes. Do your research to know the cost of labor and materials in your area. Create a budget and prioritize tasks that add value to your home and reduce your home insurance rates. Assess your options and plan your project systematically to avoid last-minute changes. A plan helps you visualize what you want without missing the details. It also saves time and money. Take your time designing your project to avoid missing details.
Deal with Time-Sensitive Projects First
If a project will save you time and resources, work and complete it first. Similarly, if a project will cost you more if you delay completing it, you're better off working on it and finishing it first. Determine which projects should go first and which ones can be done in the future. Quick, time-sensitive projects include a leaking roof, faulty filters, or a cracked wall.
Find the Right Contractor
When it comes to home improvement, any mistake can be costly and frustrating. You don't want to put all that effort, money, and time only to realize you did everything wrong. Hiring an expert helps save time, money, and energy. They provide you with the peace of mind you deserve to get your ideas to reality. Whether you're installing a new roof, creating some space in your kitchen, or having a bathroom makeover, hire the right people. You can ask friends and family for recommendations or check online reviews for some of the best contractors.
Install Smart Devices
If you're looking to improve your home, you may want to focus on splurging on smart home devices and appliances like security systems and smart speakers. Spend more on devices that will help you save energy bills and improve security in your home. Today, it's possible to light your home, make a cup of coffee and turn music on in your home while at work and come to a warm home with your coffee waiting for you. If you forgot to turn off a light bulb in the morning when you were leaving for work, you don't have to wait till you get home to turn it off, as you can do so at the comfort of your office through your phone.
Focus on the Kitchen and Bathroom
If you want to increase your home's value up to 40 percent, the kitchen and bathroom are the first places to work on. Adding life to a tired bathroom like replacing tiles, adding some fancy lights, or installing a walk-in bathroom is a valuable way of improving your home. You can also do more with your kitchen, like adding more space, changing the layout, replacing cabinets, and installing new appliances. Note that enlarging your kitchen can be a more significant project than you think, as it may involve digging and disconnecting wires and pipes to accommodate a new wall. If you're planning to do both, set a budget aside and determine which areas to improve.
Reimagine Your Outdoor Space
Another area that can boost your home's resale value is landscaping. If you're looking to sell your house in the future, you can start working on various landscaping projects like planting flowers and trees and adding beautiful features like garden swinging chairs, lights, and water features. Think about what you would want your garden and backyard to look like and utilize the available tools and resources to renovate your outdoor space.
---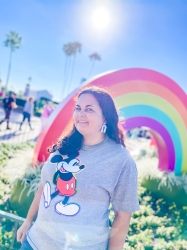 Latest posts by Krystal | Sunny Sweet Days
(see all)