10 Ways to Add a Personal Touch to Your New Home
The day has finally come; you have just moved into your new home. It's time to decorate and make it your own! Maybe you're moving out of a small apartment with few belongings to a bigger space with space for all of your things. Perhaps you are downsizing because the kids are grown up, and you don't need as much space anymore. Whatever the reason for your house moves, this is an exciting chapter in your life. Here are ten things to consider when decorating your new home.
How to make your new home feel like home
When you move, it can be hard to find a home that feels like it's your own. That's because the moment you walk into a new living space, memories and emotions come flooding back.
As you decorate and make your new home feel like your own, think about what characteristics are essential to you.
For example, if you enjoy being surrounded by nature and plants, then a natural decorating theme might be perfect for you. If you want the latest technology in your home but don't want anything too techy or futuristic, then opt for products that come in aesthetically pleasing modern designs that replicate decorative items or blend into the interior style of your home.
Whatever floats your boat!
Once you start adding your personal preferences into the mix of things, everything will begin to fall into place. It'll be that much easier to make this space feel like home.
Consider Your Overall Color Scheme
When decorating your new home, the first thing you should think about is colors. You might be moving into a brand-new community if you are moving from an apartment or house with similar colors, so you might want to bring different colors and patterns that flatter the space.
This is an excellent time to create a color palette for your new home before anything else if you're starting from scratch.
It's also essential to think about what looks good in the space, as well as what works with the rest of your furniture. For example, warm colors would be best if you have wood furniture and lots of natural light in the room.
Add some greenery
Adding some greenery to your home helps make it feel more natural, which is important when living in an urban area. Some plants are better for outdoor spaces, and others are better for indoor spaces.
If you have a balcony or front porch, consider adding some plants there too! Not only does adding plants enhance the aesthetic of the space, but they also help clean the air by filtering out contaminants.
Of course, not all plants are appropriate for every type of space. For example, succulents are best for indoor spaces because they require very little water and don't need sunlight, while ferns are better suited for outdoor spaces because they need sun and can take up a lot of space.
Invest in furniture that fits your lifestyle
When decorating a home, one of the main things you need to think about is furniture. The right furniture can make a room feel more welcoming and cozy, while the wrong décor will make your comfort level plummet.
Think about what sort of activities you want to do in your new space. Will you be hosting guests? Do you have kids around? If so, then bedrooms are important to consider.
If you're downsizing, remember that a smaller space means less square footage for entertainment. So instead of filling your living room with couches and chairs that take up most of the room, go for furniture with storage capabilities to save on space.
Put up photos of your family and loved ones.
Whether you have a lot of family or just a few close friends, decorating your home with photos of loved ones can be a great way to establish yourself as the new homeowner.
Photos of your family and loved ones can show who is currently living there. They also serve as a reminder that someone else cares about this space. Pictures will make your home feel less like an investment and more like home. Plus, you'll know when your loved one comes to visit because you'll see them in all their favorite poses throughout the room!
Choose your picture framing options carefully to ensure it works with your aesthetic.
Create a space for relaxation
Decorating a home can be stressful and overwhelming. Make sure to take some time out of your day and create a space for relaxation. This could be as easy as putting on a record, lighting some candles, or decorating the room with your favorite color.
The point is that you need to find ways to relax in your new space. This will help you feel more comfortable in your home and make it easier for you to enjoy spending time there.
A great tip is to have a designated place where you can take breaks throughout the day. Maybe this is a chair in the corner of your bedroom or an area in front of the TV where you can sit and watch something for a few minutes when you need a break from decorating.
Give yourself time before you bring in too much decor
One of the most important things to consider when decorating your new home is giving yourself time. When you first move in, it can be overwhelming and challenging to get everything you need. Get yourself acclimated and make sure you have plenty of time to buy your furniture, decorate your space, and organize all of your belongings.
This will give you a chance to find pieces that work well with each other and create a personal feel for your living space. You don't want everything to be perfect right away; it will take time for your own unique style to develop and grow into the new home's design. You will also want to consider what works best for you and what feels comfortable for you in this room or throughout the house.
As quick as the decorating process can seem, remember that there is no rush when it comes to getting this done. It's essential to have a beautiful space and reflect on who you are and make you happy every day.
Utilize the natural light
One thing that's important to consider when decorating your home is the natural light. It will help you create an atmosphere that will be both inviting and welcoming.
One way to make sure you have enough natural light in your home is to add skylights or attic windows. If you don't want to do this, try adding a window blind to a window facing east. This will allow the sun's rays to come in during the morning and evening hours.
The natural light will also help you create inviting colors and textures in your space. For example, you may choose purple for walls because it has a rich color and creates a calming effect for the ambiance of your home.
Consider how much storage you need.
If you're downsizing, this is a fundamental question. You need to know how much storage space you will need to accommodate all of your things and make room for what comes next. Consider carefully if you live in an older home and have limited storage. If this is the case, you may want to look for a smaller place with less storage.
Another thing to consider when getting ready for your new home is how many rooms you'll need. Be sure to take this into account before making any decisions! If you like living in a small space but want lots of different rooms, the type of floor plan that's right for you will depend on the number of rooms available.
Personalize to reflect who you are
You don't have to be a professional designer to make your new house feel like home. If you're feeling stuck, here are some tips that might help you get started.
First, consider what colors and textures reflect who you are. What do you like? What's most important to you? You can use these as a guide to help pick out furniture, paint colors and decorate with items that reflect your style.
Second, think about the rooms in your house. Are there any spaces that feel empty or unused? Consider adding something like an accent wall or plant to make those areas pop from the rest of the room.
Third, think about what things you want to bring from your old space into your new one. Maybe it's just a lamp or picture frame– whatever it is, get a little piece of your old life into the new one!
Hopefully, these tips will help you put your own stamp on your new home quickly and speed up the settling-in process. Moving home can be stressful in many different ways, but having a space you feel at ease will help you relax and acclimate much easier.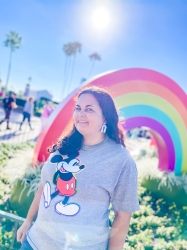 Latest posts by Krystal | Sunny Sweet Days
(see all)