6 Tips To Help When Start An At-Home Business
Are you considering starting a business from the comfort of your home? If so, there are several tips that can help ensure you have success. Working from home has many benefits, including being able to set your own hours and work in an environment where you feel comfortable and secure. However, it also comes with its own unique challenges that must be addressed if you want to succeed. Here are six tips for getting started on the right foot when launching an at-home business.
1. Delivery and Shipping
Consider how you will deliver your products or services to customers. If you're selling physical goods, you may need to set up a system for shipping items. You may also need to book couriers or make arrangements with local post offices. If you're offering digital products or services, determine how customers will access them and in what format. It's important to gather more info about delivery and shipping, so you can meet customer expectations. Additionally, make sure you understand any local and national laws related to delivery if you're shipping goods across borders.
2. Investing in Technology
Starting an at-home business can be challenging and one of the most important investments you can make is in technology. Investing in a reliable computer, printer, software and other necessary tools to help you manage your business effectively will be worth it in the long run. Additionally, having access to up-to-date information and news related to your industry or field is critical for success. Research the latest trends, technologies, and advancements available to stay ahead of the competition. Investing time into finding resources that will help you better serve customers and clients will pay off with positive customer experiences.
3. Establish a Separate Workspace
Creating a dedicated workspace for your at-home business is key to maintaining a professional attitude and keeping yourself motivated. When you have an area of your home that is specifically reserved for work, it'll be easier to remain focused and organized. Try to choose an area with the least amount of distractions, such as noise or other people, so you can concentrate on the task at hand. You should also ensure that the space has adequate lighting and ventilation, as well as necessary equipment like a dependable computer or phone system. If possible, opt for a separate room that has windows with natural light and fresh air to keep both body and mind energized throughout the day.
4. Set Boundaries
When working from home, it's important to set boundaries. It can be difficult to establish a work-life balance when you don't have to commute and the lines between the two are blurred. Setting clear boundaries will help keep your mind focused on your job during working hours, and allow you to enjoy downtime with family and friends once you're off the clock. This could mean keeping specific days for work tasks only or setting aside certain times for leisure activities. Find what works best for you in order to stay motivated and productive while still maintaining a healthy lifestyle.
5. Develop a Support System
Having someone to turn to for advice, motivation, and guidance when starting your at-home business can be invaluable. Whether it's a family member, friend, or mentor, make sure you have someone who can support and encourage you in the early stages of setting up your business. They don't need to be an expert in the field but should just be someone who will listen and provide constructive feedback. Also, take the time to join a relevant business group or forum to connect with like-minded entrepreneurs who can offer advice and ideas.
6. Get Professional Help When Needed
Starting a business can be complicated and time-consuming, and you may feel like you need some help. Don't be afraid to seek out professional assistance when needed, such as accountants or attorneys. Getting the advice and support of an expert in the field can help ensure that your business is set up correctly from the start and that all the legal paperwork is taken care of properly. A good attorney will also be able to provide valuable resources, contacts, and suggestions on how to get started with your new venture.
Starting an at-home business can be intimidating, but with the right preparation and attitude, it can also be a rewarding experience. Following these six tips will help ensure you have all the resources and support you need to get your business off the ground. From investing in technology, and setting up a separate workspace, to developing a supportive network and getting professional help when needed, you'll be able to create a successful business that is both profitable and enjoyable.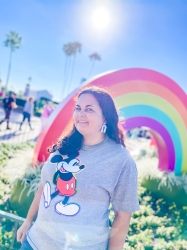 Latest posts by Krystal | Sunny Sweet Days
(see all)