How to Prep Your Kitchen For Smoothies
When you want to eat better and fix nutritious snacks or smoothies, you are going to need to prep your kitchen! Similar to meal planning, prepping your kitchen for smoothies is an easy fix to make healthy eating accessible. Instead of grabbing a meal on the go from a drive thru, you will need to prepare fresh ingredients and COOK a meal. However, a hearty smoothie is a simple swap that you can do to enjoy a meal without a lot of fuss!
How to Prep Your Kitchen For Smoothies
You need a blender that works. Start with a blender that is easy to CLEAN and easy to use. Read reviews before you buy and ask friends who use their blenders a lot. I was able to try this new Oster model, and it will make blending and mixing a breeze!
I received the Oster Pro 1200 Plus which included a food processor as well. There were settings already on the blender for smoothies, so a few quick pulses can leave you with a fully blended meal or snack idea! The pitcher is marked with measurements so you can simply add, blend, and enjoy! The pitcher fits on the base snugly, which is so important when blending frozen fruit. You don't want a blender that scoots across the counter or leaks. The lid was secure as well, and it was ready to use right out of the box. There were no complicated instructions, and the blades were sharp.
Have ingredients ready. Besides a blender that is durable, you are going to need smoothie ingredients available at all times if you want to prep your kitchen for easy snacks and meals! While you can have fresh produce like greens (kale!), a lot of ingredients work just as well frozen. I like to blend frozen fruit often since they are creamy and cold when blending without having to add any more ice.
Stock up on healthy smoothie ingredients like coconut water, yogurt, flax seed, chia seeds, and other mix in ideas. I like to use almond or cashew milk too! You can use a scoop of protein powder to keep you full until your next meal as well.
I personally start my day with a cafe latte! It is my favorite way to have a quick breakfast, and it has my favorite coffee flavor.
Prep your smoothies ahead of time. When you discover what your favorite smoothies are, you can prep ahead of time. Clean, cut, and measure out your ingredients and store them so they are ready to use. You can toss all your frozen fruit into a freezer bag, label it, and pour it into your blender in the morning along with a cup of yogurt and some fresh greens.
Add smoothie accessories to your kitchen. Once your smoothie is ready, make sure you have accessories to enjoy your smoothie! I like big tumblers or mason jars with wide straws. You can find glass straws online that you can reuse.

Prep your kitchen for smoothies with these tips. Don't forget to upgrade your blender with Oster! Shop Target and save money.
What's your favorite smoothie?  Try these Vanilla Bean Protein Shake Mixer Ideas.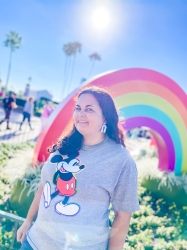 Latest posts by Krystal | Sunny Sweet Days
(see all)