Simple Steps To Enjoy Quick And Delicious Asian Meals
The world of cuisine is so rich that it's impossible to narrow down one specific region that does cooking better than the next. Each place in the world offers a unique variety of spices, ingredients, and recipes that there is never a shortage of food and cooking techniques to appreciate. One such region that has inspired countless imitations and homages is Asia.
Asian food has long been associated with a bounty of ingredients because of the biodiversity they revel in. Asian food is also taken for granted at times because of Americanized versions (American Chinese food is far from the real thing), so it's easy to get lost in what's traditional and what's imitation. Regardless, Asian food has a long history and one that is great to be a part of by trying out yourself, so here are some easy ways to enjoy quick and delicious Asian meals.
Order Specialized Meal Kits
Meal kits and meal delivery services are all the rage, so you might be wondering how this plays into enjoying Asian meals. The fact is that not all meal kits involve ready-to-make food, a lot of them can send you ingredients to help inspire you to try out recipes. These Cleaver's organic beef parcels aren't designed only for Korean or Asian cooking, but you can use the food to make a Thai-inspired stir fry, or a Mongolian beef and rice bowl. Meal kits and ingredient parcels simply help give you the inspiration to start experimenting with yourself and Asian recipes are a good way to improve your cooking skills.
Use Asian-Inspired Cookbooks
Any cook should advocate for cookbooks over recipes found on websites. It's not that the internet isn't a treasure trove of useful resources for learning to cook, it's just that cookbooks are much more practical, but it's also subjective. Either way, the best way to learn how to enjoy Asian recipes is to brush up on your knowledge of Asian-inspired dishes. Buy, borrow, or search up recipes online to help you in the kitchen.
Learn the Staples of Asian Recipes
There are a lot of recipes of wide-ranging ingredients and techniques in Asian cuisine, so it's not easy to narrow it down. Food in South Korea is wildly different from cuisine found in Pakistan, but there are a lot of staples in Asian food. Rice is abundant, so are beef and chicken, but there are plenty of vegetables to include while cooking too. Bok choy, sesame, oil, peppercorn, water chestnuts, oyster sauce, chili peppers, the list can go on and on. What you'll see though is that there is a good mix of bases, spices, herbs, and ingredients that make up Asian meals, so it's good to know what they are and why they are used so frequently.
Pick Out the Proper Kitchen Accessories
Cooking is a skill, but any chef knows that part of their ability comes from the kitchen accessories they use. You'll of course need reliable cutting boards/cutting blocks, a good knife set, but you'll also want to look into bowls for soy sauce, sushi platters, chopsticks, woks, wok spatulas/ladles, bamboo brushes, skimmers, and steamers. These are common in many kitchens across that world, both residential and professional, that are heavily involved in cooking Asian recipes, so you should beef up your kitchen arsenal as well.
Learn How to Meal Prep
Meal prepping isn't just about making your entire week's worth of work lunches ahead of time, it's about knowing what to set out the night before you decide to cook. Marinating beef in soy sauce overnight, slow cooking rice, and having your accessories ready to go. Meal prepping is a general skill you need to have to learn how to cook meals quicker which will inevitably help when you learn more Asian recipes to make.
Experiment With Your Eating Choices to Refine Your Palate
You also need to teach your taste buds about what authentic Asian cuisine is like. There are a lot of places you can go out to eat to get a hint of Asian recipes, like Chinese food and especially sushi, but you need to be more adventurous too. The only way to refine your palate is to go where the food isn't processed and has deeper cultural ties. If you're going to eat sushi, splurge and go to the upscale one, try out Middle Eastern dining, and try the meals you've never heard of to get a better understanding of how diverse Asian food actually is.
Asian cuisine is among the world's most diverse because of how broad the Asian continent is. Knowing this, you can make it easier on yourself by using this advice on how to get better at making easy and delicious Asian meals at home to enjoy.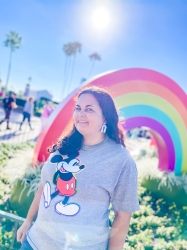 Latest posts by Krystal | Sunny Sweet Days
(see all)