Elevate your Attire with your Favorite Styles of Scarves      
Scarves have long been a staple accessory in women's wardrobes, offering function and style. These versatile pieces can be worn in various ways to provide warmth in colder months and enhance outfits during warmer seasons. This article explores the year-round appeal of women's scarves, provides styling tips for different seasons, and highlights the advantages of purchasing from reputable online stores.
Embracing the Cozy Appeal of Scarves
During winter, scarves are essential for providing warmth and protection against the cold. Consider these tips for selecting and styling winter scarves:
Material Selection: Opt for insulation materials, such as wool, cashmere, or thick-knit fabrics. These materials provide warmth and contribute to a cozy, comfortable feel.
Size and Length: Choose scarves long enough to wrap around the neck multiple times or drape over the shoulders for added warmth and coverage.
Color and Pattern: Winter scarves add a pop of color to an otherwise neutral or dark winter wardrobe. Select bold hues or patterns that complement outerwear and add visual interest.
Styling Techniques: Experiment with various ways to wear winter scarves, such as looping, knotting, or draping. Varying styling techniques can create different looks and levels of warmth.
Elevating Outfits with Lightweight Scarves
Scarves are not limited to the colder months; lightweight, airy options can add a touch of elegance and style to summer outfits. Keep these tips in mind when incorporating scarves into warm-weather ensembles:
Material Selection: Opt for breathable, lightweight fabrics such as silk, cotton, or linen. These materials are ideal for summer, providing a delicate, airy feel without adding bulk or warmth.
Size and Length: Choose smaller, more manageable scarves that can be easily incorporated into various outfits. Longer scarves can also be worn as sarongs or shawls for added versatility.
Color and Pattern: Summer scarves allow play with vibrant colors, patterns, and prints. Look for options that complement seasonal attire and add a touch of whimsy.
Styling Techniques: Experiment with different ways to wear lightweight scarves, such as tying them around the neck, looping them through belt loops, or using them as a headband. Each technique offers a unique look and adds visual interest to summer outfits.
The Online Shopping Advantage: Finding the Perfect Scarf
Purchasing women's scarves from reputable online stores offers numerous benefits, including convenience, variety, and competitive prices. Keep these tips in mind when shopping for scarves online:
Research: Explore different brands, materials, and styles to better understand the options available. Read product descriptions, customer reviews, and testimonials to make informed decisions.
Material and Quality: Verify the materials used in the construction of the scarves, and opt for high-quality, durable options that will stand the test of time.
Color and Pattern: Review the available colors and patterns, and select options that complement existing wardrobe pieces and personal style preferences.
Return and Exchange Policies: Familiarize yourself with the online store's return and exchange policies before purchasing. This provides a safety net if the items do not meet expectations or match the online descriptions.
Conclusion:
The versatility of scarves makes them a valuable addition to any wardrobe, offering year-round styling options that range from winter warmth to summer cool. Selecting scarves in a variety of materials and patterns can provide an extensive palette for creating numerous fashion statements. The lightweight silk scarf can add a dash of elegance to a summer ensemble, while the chunky woolen variant can provide both style and comfort in colder months.
The choice of scarf can also reflect individual personality traits. Bold, vibrant patterns may signify an outgoing and vivacious character, while muted tones could suggest a more understated and sophisticated persona. The manner in which the scarf is styled – whether casually draped, neatly knotted, or intricately folded – can further enhance its impact, offering endless possibilities for personal expression.
Moreover, scarves are not limited to neck adornment alone. They can transform into headbands, belts, or even bag accessories, showcasing their incredible adaptability.
In conclusion, the humble scarf, with its vast array of styles, materials, and uses, can significantly influence personal style. Its versatility makes it more than just a wardrobe staple; it's a tool for creative expression and style innovation.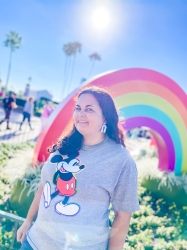 Latest posts by Krystal | Sunny Sweet Days
(see all)