Planning Your England Trip: Top Tips for First-Time Visitors
Welcome to the land of royalty, tea, and iconic landmarks! England is a country that has something for everyone – from history buffs seeking to explore ancient castles and museums, to foodies looking for a gastronomic adventure. But with so much to experience in this vibrant nation, first-time visitors may find it overwhelming to plan their trip. That's why we've put together this guide filled with top tips on planning your England trip. Get ready for an unforgettable journey through the best of what England has to offer!
Planning When to Visit England
Here, for example, the unpredictability of the English weather will always make it harder for you to properly choose when you should visit this country. The weather can vary greatly depending on the season, so choose wisely! If you're looking for warm temperatures and sunny skies, plan your trip between June and August. These months are also peak tourist season, so expect larger crowds and higher prices. Spring (March-May) is a great alternative if you want milder weather without the heavy crowds. Autumn (September-November) is another popular time to visit England, with cooler temperatures and beautiful fall foliage in many parts of the country. Winter (December-February) can be cold and rainy but offers a unique experience with festive holiday markets and cozy pubs.
Understanding the Best Ways Get Around England
With the numerous transportation options available, getting around shouldn't be too much of a hassle. If you feel like it would be good to have someone show you around while also helping you get around, consider Oxford tours or any local tours that might interest you. One of the most popular ways to get around is by using public transport such as buses and trains. The National Rail network connects major cities and towns in England providing an easy way to travel between destinations. Additionally, London has an extensive underground system known as 'the tube' which makes it easier to navigate within the city. For those who prefer more flexibility and control over their itinerary, renting a car might be a better option. This allows you to explore at your own pace while enjoying scenic routes along the countryside. However, keep in mind that driving on the left-hand side might take some getting used to. Another great way to see different parts of England is by cycling or walking. Popular trails such as Hadrian's Wall Path or Cotswold Way offer picturesque views while allowing you to experience nature up close.
What Should You See and Do in England
England is a country with so much to see and do that it can be overwhelming for first-time visitors. From historical landmarks to beautiful countryside, there's something for everyone in this diverse country. For history buffs, a trip to London is a must-do. The city boasts iconic sites such as the Tower of London, Westminster Abbey and Buckingham Palace. Visitors can also explore British heritage at museums like the British Museum or the National Gallery. Nature lovers should venture out of the bustling cities into England's picturesque countryside. The Lake District offers stunning scenery with its rolling hills, scenic lakes and charming villages. Meanwhile, Cornwall provides some of Britain's most beautiful beaches along with traditional fishing ports. Foodies shouldn't miss trying traditional English cuisine while on their visit! A full English breakfast featuring bacon, sausages and eggs are staples of many menus alongside fish & chips; a classic pub dish consisting of battered fried fish served with chips. Sports enthusiasts will find themselves spoiled for choice when visiting England as well – from attending Premier League football games to watching cricket matches at Lord's Cricket Grounds!
Where to Stay in England
Depending on the budget you have, as well as the location you want to visit, choosing the right place to stay can impose some challenge. For those looking for a luxurious experience, there are numerous high-end hotels in London such as The Ritz or The Savoy. If you're interested in something more quaint and traditional, consider staying at a bed and breakfast in the countryside. For travelers on a budget, hostels can be found throughout major cities like London and Manchester. Alternatively, vacation rentals through websites like Airbnb offer unique accommodations that can fit any budget. If you're looking for a more immersive experience, why not try staying with locals? Homestays allow visitors to live with local families who can provide insights into the best places to visit and eat while giving travelers an authentic taste of English hospitality.
An Introduction to the English Cuisine
Fish and chips is probably the most iconic, but there's much more to explore beyond this classic dish. One thing you'll quickly notice about English food is the love of savory pies. From steak and ale pie to chicken pot pie, these hearty meals are perfect for colder weather. And don't forget about bangers and mash – sausages served with mashed potatoes and gravy. In terms of drinks, tea is a staple in England and you can find teahouses all over the country. Another popular drink is beer – England has a long history of brewing and offers many different types of beer from stouts to IPAs. If you're feeling brave, try some traditional British desserts like sticky toffee pudding or spotted dick (a type of steamed pudding). And if you want something truly unique, head to London for some jellied eels – a dish made from chopped-up eels in jelly!
Tips for First-Time Visitors to England
Pack for the Weather: The English weather can be unpredictable, so make sure to pack layers and waterproof gear.
Learn the Language: Although most people in England speak English, there are some differences in vocabulary and accent. Take some time to familiarize yourself with common phrases.
Mind Your Manners: English culture places an emphasis on politeness and manners. Remember to say "please" and "thank you," hold doors open, and queue up in lines.
Use Public Transportation: Driving on the left side of the road can be daunting for visitors, so opt for public transportation like buses or trains instead.
Try Local Foods: From fish and chips to bangers and mash, England has a variety of delicious local foods worth trying during your visit.
Visit Free Attractions: Many museums, parks, churches, and galleries offer free admission throughout England – take advantage!
Bring a Converter/Adapter: The UK uses different electrical outlets than other parts of Europe or North America – make sure to bring a converter/adapter if needed.
Respect Historical Sites: England is home to many historic sites that should be treated with respect – refrain from touching artifacts or defacing walls/monuments.
England is a fascinating country that offers visitors a unique blend of history, culture, and natural beauty. Whether you're interested in exploring the bustling cities or wandering through picturesque countryside, there's something for everyone in England. By following these top tips for first-time visitors to England – including planning your trip around the best time to visit, understanding transportation options, and choosing the right places to stay and eat – you'll be well on your way to having an unforgettable experience. Remember: travel at its core is about exploration and learning. So don't be afraid to venture off the beaten path and discover all that this wonderful country has to offer!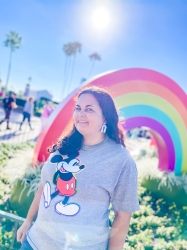 Latest posts by Krystal | Sunny Sweet Days
(see all)