How to Budget With PayPal
Thank you PayPal and Walmart for sponsoring this post. Introducing PayPal cash in and cash out money services, the financial services alternative which allows you to manage your PayPal account and cash flow needs on your own terms!
There are some days when I feel stuck financially. Sometimes I am unsure what the best method is to access my cash or I need a quick way to pay a debt. With the holiday season here (and a new year that has many financial resolutions on my list!), I wanted to share how to take charge of your finances with my printable budget planner. I also want to introduce you to a way to get more financial flexibility in your own personal life. You got this!
I use PayPal almost every single day. Since we are always on the go, I find that PayPal is where I store my "fun" money. My part-time remote gig, my friends on PayPal, the items I sell to declutter… I use PayPal for those transactions. I as so excited to hear that PayPal cash in and cash out money services is now exclusively at Walmart stores, and they help increase my financial freedom and the ability to quickly access the cash in my PayPal account! Yes!
These shoes? I paid with PayPal!
When you don't have a regular direct deposit, financial flexibility is key to my everyday life. I don't have to worry about spending the time to cash checks or buy a prepaid card just to make a purchase online or to pay bills. I can say goodbye to inconvenience and those high fees! PayPal cash in and cash out money services are a financial solution to help YOU meet your needs and manage your PayPal balance when you need to.
Imagine you're me on the go in a new city…I need to access my PayPal balance. I am thrilled that it is as easy as stopping into a Walmart. And, if you're on the road a lot like me, you know there is always a Walmart close by. This is how my financial needs are finally being met by PayPal's cash in and cash out money services.
On my last trip to Alabama to sample their food and visit the museums, PayPal was available to me just by visiting their local Walmart!

Even though it is easy for me to access my PayPal funds now, I still crave a pen and paper solution to track income and expenses. Since I accumulate funds from different sources, it is crucial for me to track this and stay on top of it!
Free Printables
Pin it:
I was selected for this opportunity as a member of CLEVER and the content and opinions expressed here are all my own.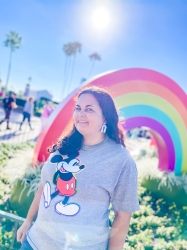 Latest posts by Krystal | Sunny Sweet Days
(see all)