Scent Savvy Laundry Tips: Laundry Routine Printable
This shop has been compensated by Collective Bias, Inc. and its advertiser. All opinions are mine alone. #SparkleWithGain #ILoveGain #CollectiveBias
You know the days…never-ending piles of laundry that, well, stink. Smelly dirty clothes, stained outfits, delicate fabrics that need special care, and the pile of mismatched socks. If laundry is your least favorite chore, you're in good company. While I may work at home, I don't have hours to sit around folding clothes while I binge watch TV. It takes small, everyday habits to make laundry manageable, and I am going to share with you how to save money on your household chores, organize your laundry routine, and hopefully inspire you to take action on those tough chores. Let's tackle your dirty clothes together!
How to Create a Laundry Routine
Perhaps the first and most important step is to settle in on a routine that works for your family and your budget. A routine includes using the right detergents and making it a habit. Do you use fabric softener each and every time? Do you sort your colors? Let's dig in with your laundry issues! As for us, we recently stopped by Dollar General to find Fresh Water Sparkle™. We usually use Dollar General as our "stock up" store for things like soaps, cleaners, and detergents. The prices, especially when paired with coupons, can be rock-bottom!
For our purposes, you want to create a routine using quality laundry products. Not only do you need products that work, but you want your clothes to smell good too.
Fresh Water Sparkle™
has a unique scent that is not overpowering and can be a mood booster. There is something about fresh and clean clothes right out of the dryer that really motivates me. Call me crazy, but I'll take any bit of motivation I can get when doing a chore like laundry!
The complete laundry routine that we settled on was Gain Flings™! laundry pods, Gain fireworks!™ in-wash scent booster, and Gain Dryer Sheets. The Fresh Water Sparkle™ scent is available in all of those products. By using all three of these products together, your clothes layer on the Fresh Water Sparkle scent. It's so good, y'all!
Laundry Routine
Sort colors, delicates, jeans, and SOCKS. If you're anything like me, you lose socks like crazy. My new strategy is to literally just wash socks and undies together. I can't lose socks when it's an entire load of them!
Wash. Using Gain flings!™ laundry pods (this container is child-safe too!) is so easy. No spills or messy and sticky liquid detergents. They offer 50% more scent than liquid laundry detergent, and they dissolve in both hot and cold water. I usually do cold loads (save energy and helps prevent colors from bleeding together). Plus, they are HE compatible (which is great, because we may upgrade soon!). Just always pace the pac directly into your washing machine drum before your clothes, and use more than one if it is a huge load.
Boost
! Gain fireworks!™ in-wash scent booster can help add more scent to your stinky clothes. It's a simple scent bead that adds fragrance. The more you add, the better it smells! All you have to do is shake the scent beads directly into the drum of your washing machine before your clothes.
Dry
. Gain Dryer Sheets are the BEST at fighting static in the dryer. I like to use dryer sheets since it helps skip ironing. Dryer sheets help fight wrinkles and make your clothes softer. Fight static in the dryer while adding amazing Gain scent. Fluff and tumble your way to fewer wrinkles, more softness and less static cling with Gain Fresh Water Scent dryer sheets.
Free Cleaning Printables
What helps you finish laundry more efficiently?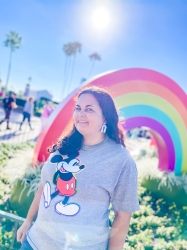 Latest posts by Krystal | Sunny Sweet Days
(see all)