Jewelry Wearing Etiquette- Make Your Own Fashion Statement
Wearing jewelry is not something that happened recently. It's been there for centuries to enhance the overall look or to make a status statement. However, in today's time, unlike what many presume, one needs to follow specific guidelines to master the art of picking the right jewelry to match their attire.
With the jewelry industry becoming a billion-dollar market, you can find many options to accentuate your look. If you ask any fashionista or fashion experts, they will always claim that the right jewelry can even transform a boring outfit into something that's worthy of everyone's attention.
While some suggest "less is more," that's not always the case. Sometimes you need to wear a particular accessory to sparkle. The key is to know "when is the right time?"
If you don't have any experience, don't worry. In this article, you'll learn how to wear the jewelry the right way.
Acceptable Everyday Jewelry
Certain pieces of jewelry don't lose their charm even if you carry them every day. Wedding rings or bands being the most common of them. Again, if you are someone who constantly looks for their cell phone to get a grasp of time, wearing a wristwatch would be a great idea. Another example of such jewelry options is a simple "keepsake necklace."
You don't have to think about anything. Just put them on, and you are good to go.
Wearing Jewelry to Work
When going to work, the best way to attract the right looks is wearing something that's not distracting or noisy. Try showing your individuality without offending your work culture. Here are some tips to make the correct statement when going to the office.
If you work in any restricted office environment, it would be good to limit jewelry options to stud earrings that compliment your dress.
In a liberal work environment, you can go for studs, small hoops. Just don't opt for choices that might be too bright.
A general rule when going to work is that opt for a watch, bracelet, a ring, and a pair of earrings/ a necklace. Anything more than this might look over the top.
Wearing Jewelry to a Formal Event
Formal events are all about bringing elegance to the limelight. This is the time that you can sparkle or glamorize a bit. For example, if you are going to Dallas for a formal event and wish to show off your cheekbones or your jawline, you can go for a diamond earring and a statement necklace with your hair in an updo.
Besides this, you can also go for pearls or precious stones. But make sure you don't go for oversized pieces. This is why it is essential that you buy your jewelry from reliable sources like Aura Diamonds Dallas to enhance your overall look. You'll find many varieties of fashion jewelry that will complement your outfit.
Wearing Jewelry to a Party
This is the time when you can practically wear anything. After all, you are hanging out with your friends. So, if you love clanging bangles or blings, this is the time to wear them.
Final Words
No matter where you go, you need to follow one piece of timeless advice. Don't wear too much jewelry. It will steal the attention away from you. It should enhance your personality, not the other way around.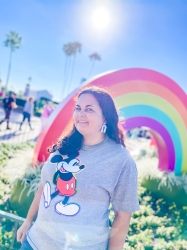 Latest posts by Krystal | Sunny Sweet Days
(see all)