College: Simple Tips To Help You Get Accepted And Started
Getting into college can be a stressful time for many potential and prospective students. There is a lot to worry about and it can feel like too much to handle. Here are some tips to help simplify and organize your needs, and get you accepted.
Getting An Idea Of Your Desired Program
One of the first things that you need to consider when you are thinking about college as a high school student is to consider what program you want to take. There are so many different options and career paths you can pursue, and with every program will come different prerequisites and requirements. You have to ensure that you take the necessary classes for specific programs. Talk to your family, your friends, and think about your future. It may feel scary to think so far ahead, but even having an idea of what you want to do in the future can help save you so much time and energy. If you know the program you want to take, or even the general field, then you can take the classes that you might need for them. You do not want to reach the end of your high school years learning that you are missing classes and have to go back to take ones that you have missed. This could mean having to take another year, or spending your summer back in school.
Grades Will Always Be Important
No matter what anyone says, one of the biggest factors in getting accepted into the college of your choice will always be your grades. This provides college admissions the ability to evaluate prospective students to see if they can succeed in their programs. Some programs are highly competitive, and this means that the required grades will be much higher to even be considered. It is crucial that you take your studies seriously to ensure that you give yourself the best opportunity to be considered. If you need to boost your grades, look into tutoring programs or extra classes to help you meet your standards.
Diversify Your High School Resume
As highly important as grades are, one thing to remember is that your grades are not the only thing colleges will consider when reviewing your application. It is key that you diversify your high school resume with extracurricular activities that not only show how you perform as a student, but also reveal who you are as a person and showcase your values and character traits. Because college applications can be highly competitive, and many students will have comparable grades, many colleges will also look at other aspects to make their decisions. The importance of the high school resume will be what separates you from the rest of the crowd, making you unique in a sea of grades. Things that you should do to help expand your high school resume are volunteering, joining clubs in your school, and working related jobs or internships. Your success for college begins well in advance, and you need to start as early as possible to give yourself a leg up against the competition.
Financial Aid
One obstacle that many people run into is financial difficulty when applying to schools. This may be a deterrent for many young students to consider their options if they cannot afford to go to a specific school with a program they wish to pursue. It is good to know that there are options out there to help you with paying for school, whether this translates to scholarships, and bursaries, both full and partial, to low-interest student loans that you can take. Financial aid is one factor to consider to help you evaluate your schooling options and brings you one step closer to your acceptance letter.
Talk To Your Counselor
It is important that you speak with your school counselor when you are applying for college, or first considering your path after high school. Not only can they provide you with many resources which you can use during your application process, but they can also help provide you with the guidance you need when choosing your program and school. Your counselors have access to your student records, and can tell you where you need to improve and focus. They will understand the requirements of schools, and can help you gain the necessary qualifications to be considered. It is important that you use the resources available to you, and your guidance counselor will be able to help you on your educational path.
At the end of the day, your hard work and attitude towards your future is what will set you apart and have colleges consider your application. Remember to have your eyes set on the future, and consider what you can do today that will help increase your chances for success. You'll be on campus and learning in no time.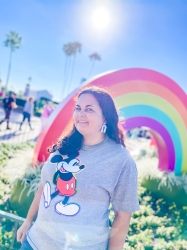 Latest posts by Krystal | Sunny Sweet Days
(see all)