How to Travel with Kids of Different Ages
When you're planning a trip, it's likely it could include several different age groups. You might be traveling with extended family or family friends.
You might also have kids within your own immediate family that are of different ages, which can make planning a trip a little trickier.
So how can you plan a great trip for kids that are different ages?
Below are some tips. 
Make Sure Everyone is on the Same Page
If you're traveling with a group, whether it's friends or your extended family like your in-laws, planning a multigenerational trip means that you need to get everyone on the same page.
You should schedule a group call or a video chat if you can, or if you all live close to one another, maybe a lunch.
When you're planning a trip designed to suit everyone's needs, you'll first want to consider your budget. How much is everyone willing to spend? This will help you start to narrow down plans because you'll have a better idea of the length of your trip, the locations that might work for you, and the general style of the trip.
If you're traveling with a large group, you might be able to secure group discounts on things like attraction tickets and even accommodations.
From there, you can start to look at dates.
This is where the age of kids can become especially relevant. With very young kids, school isn't an issue. With older kids, missing school can be more problematic, so you have to plan for times when they're already on holiday or out for summer. Maybe you choose a long weekend for example.
You can decide how long everyone in the group can allocate to travel and the type of vacation you're most interested in.
Involve your older kids in the planning if possible. Get their feedback on what they'd like to do and where they'd like to go.
You can make a general travel outline once you've figured out some of the logistics and potential limitations. Then, your kids and the other kids who will be traveling with you can help you fill in some of that outline.
Your older kids can do some of their own research to see what they'd like to see and do, which will help them feel invested in the trip and excited about taking it.
Choosing Your Destination
When you're choosing your destination, there are a couple of big things to consider, especially as it relates to different ages.
First, how will you get there? Some families with very young children may not want to fly with them, for example. Can you drive to the destination?
A second consideration with destination is whether or not there will be activities that appeal to all age groups.
A big city might not work ideally for a group with young kids. You may want to choose a place more centered around catering to families and tourists.
Ideas that can work well for multigenerational trips and vacations with kids of different ages include:
Branson, Missouri: This tourist destination is good for all ages because there are a variety of affordable accommodations, including condos and house rentals. There's a lot to do that's going to appeal to all ages, and it's an easy place to reach by car or plane.
Pigeon Forge, Tennessee: This Smoky Mountains destination has attractions like Dollywood and Dollywood Splash Country, plus you're close to Smoky Mountains National Park.
Mexico: The reason we include Mexico on our list of good multi-age and multigenerational travel destinations is that it's easy to reach by plane, and on either coast, there are a lot of all-inclusive resorts with kids programs that are broken down by age group. You don't have to worry about traveling when you're actually at your resort because most offer everything you could want or need onsite. The beach in and of itself is something that also holds a lot of appeal for any age group.
Dude ranches: For something a little outside of the box, or at least what you're used to, maybe you head to a dude ranch. These are great options if you want to disconnect from technology and the stress of modern living, and many times ranches will have activities for kids as young as two, like campfires and pony rides.
Plan to Divide and Conquer
When you're thinking about traveling with a group that includes kids who are a range of ages, you might want to divide and conquer during some of your activities.
For example, one parent can take the younger kids to do activities that interest them for an afternoon, while the other parent can take the older kids or teens.
Just think about what's going to be relaxing for both of you, but also hold the attention of your kids.
It's also a good idea to make sure that each kid who's traveling with you gets to do at least one thing they choose or that's fun for them.
Sleeping Arrangements
Finally, something else that you want to keep in mind when planning multi-age trips is the sleeping arrangements.
Little kids tend to wake up very early, and they're less likely to mind sharing a space with their parents or other kids. You might be able to get away with one bedroom for you and your younger child, but then for your older kids or teens, you want to give them as much of a separate space as you can.
Otherwise, a teen who likes to sleep in might not be able to, which can have a negative impact on their mood for the rest of the day.
Choosing a condo or house with multiple bedrooms is going to be a much better option than a hotel room. You also want there to be an area within the rental where older kids can stay up later and watch a movie, for example.
Try to think about sleeping patterns and usual habits when you're choosing accommodations.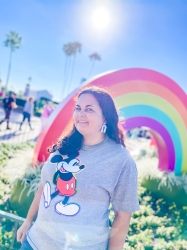 Latest posts by Krystal | Sunny Sweet Days
(see all)