How To Pick The Most Amazing Destination For Your Honeymoon
While you are almost nervous about your wedding day, the romantic trip after the ceremony should be relaxing and fun. Planning a honeymoon is stressful enough, but doing so in a rush can make things more difficult for many newlyweds. That's why picking a spot where you can relax and get to know your spouse better is vital.
However, there are some key considerations when selecting from a list of the top honeymoon destinations, ensuring you land in a place suitable to your specific preferences. For instance, the trip can seem incomplete if you love scenic shorelines but choose a location without good beaches to visit due to oversight.
So, follow the guide below and select the most suitable destination for a romantic trip with your significant other.
Consider your budget
Your honeymoon budget is pivotal in deciding where you want to go. If your budget is tight and you are trying to decide between two destinations that are similar in their offerings and prices, think about whether one will allow you a more luxurious experience than another. The more you can spend, the more comprehensive the range of options available. It can be advantageous if your travel dates are flexible and no significant events are happening during those days (such as festivals or events). You can snag discount deals for honeymooners on several sites.
Compare different locations
Make a list of everything you want in a honeymoon spot and compare it to different locations. Consider places like St. Lucia in the eastern Caribbean or Santorini in Greece, offering white-sand beaches, crystal clear waters, lush green mountains, and a peaceful ambiance. If you want to explore a smaller place, Jamaica is excellent with its vibrant culture and delicious food.
The Maldives is a fantastic choice for those looking for a luxurious holiday, allowing honeymooners to stay in classy overwater bungalows surrounded by shimmering blue waters of the Indian Ocean. Bali is a wise choice for couples who want to experience the local culture, reconnect with nature, try delicious cuisine, and explore historical monuments on a budget. Aruba, Seychelles, Las Vegas, and Hawaii are a few other remarkable places to consider spending your first romantic vacation post-wedding.
Consider an all-inclusive resort
If you want to focus on relaxing and enjoying your honeymoon without having to plan every detail, an all-inclusive resort is a fantastic option. These resorts offer everything from activities and plush rooms to food and drinks. They are often located in beautiful locations that make for breathtaking photos.
They are ideal for people who want to avoid booking separate excursions or coordinating transportation between different parts of the city. Also, they provide top-quality housekeeping and room service so that guests don't have any worries once they arrive at their destination.
Use an online guide for assistance
Planning the trip and choosing the right place can be intimidating for most newlyweds. Fortunately, some fantastic travel websites can help, listing the top honeymoon destinations by month, price, and feature categories (like most romantic, all-inclusive, etc.). Plus, if you are on a tight schedule, they will get you in touch with a travel agent who knows everything about booking trips on short notice. So, finding a place that fits your budget and tastes is easy.
Also, they offer extensive guides on the best resorts you can stay at during your trip. Invariably, with these resources at your fingertips, finding the perfect honeymoon location should be much more accessible.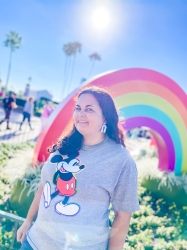 Latest posts by Krystal | Sunny Sweet Days
(see all)