A Relaxing Vacation At Home? Yes, It's Possible
Many people might already be thinking about their next vacation, but maybe you're still undecided on the answer. You probably wouldn't want to go out of town and pay hard-earned money for a vacation that doesn't turn out to be as much fun – why not consider staying in instead? Planning a break at home while saving more time and money is possible with so many great tools available today.
Benefits Of A Staycation
A staycation is a great way to relax and get away from the hustle and bustle of daily life. Here are some of the benefits of taking a staycation at home:
Reduced Stress Levels: A staycation can help reduce stress levels by giving you time to relax and disconnect from work and daily life.
Increased Capacity For Creativity And Problem-Solving: Taking time for yourself allows you to be more creative and problem-solving, which can lead to success in your work or hobby.
Improved Mood And Well-Being: Spending time with loved ones and enjoying your surroundings can improve mood and well-being.
More Time To Invest In Hobbies Or Activities That You Enjoy: Taking a break from work to do something you enjoy can give you newfound energy and incentive to continue working on your hobbies or activities.
A Sense Of Self-Compassion: Taking time for yourself allows you to reflect on how busy you are and notice how easy it is to take things for granted. This self-compassion can lead to more mindful living in the future.
Use All Of The Amenities Of Your Home 
Most people think that vacations need to be spent far away from home, in some exotic locale. But it's possible to have a relaxing vacation at home, using all of the amenities of your home. Here are three tips for making your home a relaxing escape:
Make yourself comfortable. Make sure that all the furniture in your room is comfortable and inviting, and dress in clothes that make you feel comfortable and relaxed. According to the experts at Hydropool Devon, home spas are a way to greatly decrease stress and make you feel more comfortable and relaxed. You may even want to bring along some of your own personal items that improve your comfort level.
Get in some exercise. Taking a walk on the lawn or going for a swim can help you to relax both mentally and physically. Plus, if you do any exercise while you're vacationing, you'll be less likely to feel guilty when you come back to work.
Play some soothing music. Whether you're a fan of classical music or prefer something more upbeat, playing calming sounds can help to relax you and make your stay more enjoyable. If you don't have any music available, find some soft pillows or helium-filled balloons and place them around the room to create an atmosphere of relaxation.
Explore Your Hometown
Most people think of vacations as being out of town, away from their normal surroundings. However, there are plenty of great places to take a leisurely vacation right at home. With some creativity and some advance planning, it's not so hard to go on a relaxing getaway that's perfectly tailor-made for you.
Here Are 4 Ideas For Enjoying Your Hometown During A Vacation:
1. Visit a historical landmark. If you're a history buff, take time to explore some of your town's oldest and most notable landmarks. From colonial-era mansions to noteworthy government buildings, there's probably something worth checking out.
2. Take a day trip to somewhere new. Take a day's drive outside of town and check out some of the local attractions. Maybe stop by a scenic waterfall or visit a nearby winery.
3. Plan an afternoon picnic in your park or garden. Pack your favorite sandwiches and drinks and head outdoors for an afternoon picnic in your neighborhood park or garden. Bonus points if you can find an inviting bench or spot to sit down!
4. Browse local artisan shops and boutiques. Whether you're in the market for souvenirs or simply want to take a break from shopping, browsing around your city's best shops can provide a much-needed respite from the chaos of the mall.
Whether you're dreading the thought of traveling for a vacation or you've been planning your escape for months, sometimes life happens and we have to cancel our plans. But don't let that stop you from taking a relaxing vacation at home — it's possible, and there are plenty of tips available on how to make it happen. Check out our list of ideas for a relaxing vacation at home, packed with beautiful images that can help inspire your journey. And be sure to write about your experience once you're back!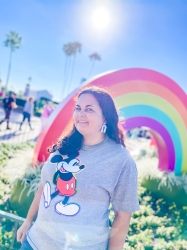 Latest posts by Krystal | Sunny Sweet Days
(see all)