How To Make Your Home Look Stunning: 6 Useful Tips
Everyone's dream is to have a home that appears as it belongs on the cover of a magazine. Sometimes, we want it so hard that we toss stuff away, rearrange furniture, and buy everything in the new catalog. Don't we all wish our slumbering homes could be reawakened with such pasenchansion? You may design a home that seems like it came right out of a luxury magazine, even on a shoestring budget. Our decorating ideas and interior design suggestions can give your home a stunning touch, so check them out!
Include Fresh Flowers
It's easy to overlook the impact of something as little and basic as putting flowers, but you shouldn't. Flowers are always a great addition to any place, as any interior designer will tell you. They provide a place with a natural quality that is always refreshing. They visually provide another layer of color that can serve as a splash of color to enliven a room or match other colors in the area to tie everything together. Fresh flowers may appear to be a splurge, but if you're attentive about changing the water and cutting the stems, they may last quite a while. You may also split a bouquet and place it in many vases throughout the home.
Warm Up the Space With Carpets
Welcome to the most underappreciated element of modern design: beautiful carpets. A premium carpet with a strong personality may provide stunning appeal to a home with a distinctive ambiance or a sense of comfort and coziness.
There are several factors that might make the house look stunning. From the type of flooring to the furniture and decorations, everything is important. In this regard, nylon (synthetic) carpets may be a smart way to renew the mood and divert attention away from a worn-out floor that no longer matches the rest of the furnishings. Nylon carpets offer the best performance and durability while remaining less expensive than other carpet varieties.
Add Visual Space With Mirror
Mirrors are an excellent way to combine elegance and functionality. They are a crucial stylistic aspect to consider while decorating, as well as being a functional part of everyday living. You can enhance hall mirrors may be utilized to improve practically any area and seemingly extend a tiny room, so consider where you'll put one. Make sure the mirror will reflect some natural light to assist brighten your space, and that it isn't facing a clutter-prone location. Entrance hall mirrors function well as a focal point for welcoming guests into the home.
Hang Curtains High
Here's a tip that will drastically improve the appearance of your rooms: always hang the curtains from the top of your wall. Even if the windows don't go all the way up, it's vital to do so. Hanging curtains from the highest position possible bring attention to the space's height, which instantly adds a unique touch to your design. Make your curtains a significant element of the room design by hanging them in an eye-catching hue, if you want to ensure that everyone notices what you've done. When placed correctly, any form of curtain can add a lot of beauty to your decor.
Play With Colors
One of the most significant aspects of any place is color. Think beyond the box when it comes to color to make your home stand out. For a new and lively infusion of color in your decor, use pink and peacock instead of red and blue. To make your living area appear larger and more comfortable, a great piece of advice is to employ a consistent and cohesive color scheme for your walls, furniture, and other design items, although you can experiment with hues to some extent. Using consistent hues creates a unified, pleasant design, making your living area seem tidy and inviting.
Hang Art on the Walls
Another easy and affordable home décor suggestion for a great effect is to hang distinctive works of art on the walls. Framing art pieces, from family photos to homemade art, can transform a space into a home. Making your own artwork is a great approach to acquiring affordable artwork if you're feeling creative. Before hanging, homeowners should decide where the artwork will be placed and how it will be displayed. Make sure the art you pick is the right size and scale for the wall, and keep in mind that not every blank wall needs to be filled.
You may make your home a stunning and pleasant place to be by following the tips above. Invite a friend over and enjoy the gorgeousness of your space.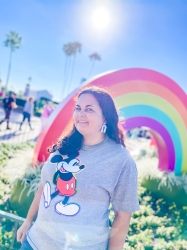 Latest posts by Krystal | Sunny Sweet Days
(see all)