How to Keep Your Pets Happy During Travel
Are you planning to take your pet with you on an upcoming trip with the family? While some pets enjoy traveling, car trips, and even plane travel- it can stressful for other pets, especially if they are not prepared for the journey! Long road trips or plane rides can require a lot of prep.
When you plan ahead, you help your pets get accustomed to travel, and ensure your furry friend is comfortable and safe throughout the vacation. Here are some tips and tricks to keep in mind.
Take Short Trips First
If your pet is nervous about loud noises or sounds, it could help to put them in a vehicle for short periods of time without starting the car. Once your pet is comfortable in the car itself, start the engine without going anywhere. From here, once your pet has gotten comfortable with the car on, is when you can start taking short little trips.
This will definitely help your pet become accustomed to the car- and help make any long car trip MUCH easier. If you're planning a long trip, start imitating that in your short trips. For example, bring a little bed or some bags. This way, your pet won't be scared when it comes time to travel and sees the car being loaded up with belongings!
Prepare a Pet Bag
Make sure you have a bag for your pet when you're traveling. You'll want to include all of their necessities like food, extra water, their bowls, pet poop or little supplies, and any medications. It also helps to bring your pet's vaccination records or copies of them, just in case. You might also bring a pet first-aid kit that contains bandages, pet safe ointments and insect sprays. Toys and Treats can also help keep your pets occupied during any traveling!
Go to the Vet
You should also take your pet to the vet prior to any trips to make sure they're in good health. If you have any concerns about a long trip or the method of travel, bring it up to your veterinarian for their advice. They can also give your any up to date medical records in case you've misplaced them, or refills on pet medications.
Restrain Your Pet
Your pet should be restrained in the car for their safety. This could include a pet crate, or a safety harness hooked to a seatbelt. This helps keeps pets safe in case of an accident, just like our seatbelts do. For smaller dogs, they also have little boxes that attach to seat belts to help keep them harnessed. It might tempted to give them a lot of room to stretch and relax during a trip, but you'll definitely want to keep them restrained or within a crate to keep them safe for the journey.
Research Airlines
Each airline has different rules in regards to traveling with pets. Most airline only permit smaller dogs in the cabin, besides cats. These pets must fit in a pet carrier underneath the seat in front of your. The usual size standards are around 20lbs or under and they must be able to comfortably fit in a pet carrier, meaning they must be able to be zipped closed in the car and also be able to stand up in it and turn around. This is of course besides Service animals, but all other Pets, are not permitted in cabin and would have to travel in the cargo hold.
Look for a non- stop flight with no layovers to avoid any risks of anything going wrong if you do have to have your pet fly in a cargo hold. Also keep in mind, that your pet will be in their crate the entire time be aware of timing of flights and additional stress on them. If you're traveling internationally, there also might be long quarantine periods, which could mean a long separation period, so make sure you research and double check ALL of this information well in advance.
Skip a Meal
The most common symptom of stress in pets is stomach troubles or diarrhea. A break in routine or a stressful trip can cause diarrhea so don't force your pet to eat a large meal before you begin your trip. Feed them less than you normally would before you leave to help keep them relaxed.
Keep Hydrated
Make sure you are also keeping your pet hydrated during your trips. While at your house, your pet has easy access to water, but in the car or on a plane, it's not as easy. They can also get stressed or nervous and not drink as much as they normally would. Try to attach a small bowl to their crate if they are restrained in a crate. If they are harnessed to a seat belt, ensure they are access to a bowl of water or take frequent breaks to give them access to water.
These tips should help you feel a little more confident about how to keep your pets happy while traveling.
Where have you traveled with your pet? Leave a comment below!
Check out more advice here: 5 Mistakes New Pet Owners Make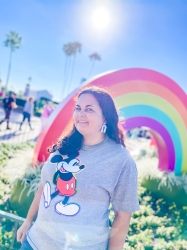 Latest posts by Krystal | Sunny Sweet Days
(see all)