How to Downsize Your Home While Keeping What You Love
By: Liz Shemaria
In the era of remote work and digital nomads, more and more homeowners are downsizing to change their lifestyles. Whether the reason for downsizing is to sell a home to travel, move into a smaller space to cut down on expenses, or transfer to a new state or even country, the need to fit belongings into a smaller space when downsizing is a must. At the beginning of a downsizing project, it can be challenging to figure out what will stay and what has to go — especially if you've accumulated a lot of stuff over the years. Following a strategy to focus on what you love and what you don't, can help you get through downsizing.
Set clear goals
The first step to downsizing is to decide how much space you'll have in your new home. If you know that you'll be moving from a three-bedroom house to a one-bedroom apartment then you'll have a better sense of the furniture, home decor, kitchen tools, and other belongings that you have to sell, donate, or toss to fit in your new home. While it might be challenging to imagine what living in your new home will be like, defining your new space's parameters will make downsizing easier.
Get organized
To efficiently sort through your home, you have to get organized. The first step is to gather the tools that will help with sorting, such as boxes, trash bags, and a pen and tape to label categories for "keep, toss, donate, and later." These categories will serve as a way to quickly sort through items to hold onto only what you truly need when moving into a new home.
Follow the KonMari method
It can be hard to know what to keep and what to give away. Professional organizer Marie Kondo's KonMari method can help, with the theme of asking if an item "sparks joy." Other questions to consider are if you have multiples of the same item (kitchen tools), if it's broken or cracked (dishes or mugs), or if it's stained or you haven't worn it in the last year (clothing). Working with one room at a time and similar items at the same time, can also make downsizing faster.
Start small
Some homeowners may find the task of downsizing overwhelming and the best way to get started may be to start with a closet, bathroom, or even a drawer filled with clutter. By starting small, even if it's just for an hour or two or sorting, you can build the momentum to work through the rest of your home.
Go digital
Some of the hardest items to downsize may be photos and photo albums. Scanning photos and negatives to make them digital or putting photos in physical or digital frames to hang on the wall of your new home can help keep these memories with you while saving space. If you don't have time to digitize photos, work with a service that can take care of the project for you.
Downsizing a home can be a big project — especially if you have a lot of stuff — but the freedom of living with fewer things can be worth it.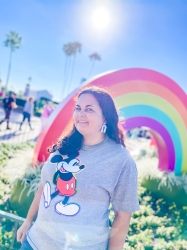 Latest posts by Krystal | Sunny Sweet Days
(see all)