How To Choose The Best Shades For Your Patio Door
If you have a patio door in your home, you will know that they let an awful lot of light into your home as the Sun shines down upon them, while this is excellent in the Winter months when you want as much light as possible in your home, come Summer time it can be a problem as all that light causes your home to heat up.
So, to prevent your patio doors from turning your home into a greenhouse this Summer, what can you do to add shade and keep the inside of your home cool?
Do You Want Blinds That Fit The Window, Or Over It?
In adding shades to your home's patio door, the big question you need to ask first is whether you want the shades installed into the frame of the door, or for them to be installed directly onto the wall over the patio door.
This choice will inform what sorts of shades you can use on your patio door, so it will make the whole process of buying shades much easier if you know what you're looking for.
You should also look at the size of each panel on your patio door, as large panels like on a sliding door may be too large for shades that fit into the frame, whereas smaller frames like the ones seen on a bi-fold door will be much better suited for shades that attach to the window frames.
Best Shades For Fitting Into The Window Frame
If you're opting for window shades that can fit into the frames of your patio door, you will want to buy Click-Fit blinds which hold the blind's hardware in the window frame, while allowing the fabric of the blinds to move freely.
You still have a few choices at this stage due to the variety of click-fit blinds that are available, so what are your options for a click-fit patio door blind?
Click Fit Pleated Blinds
Pleated blinds are the most common type of click-fit blinds, like all other click-fit blinds they attach directly into your patio doors frames. The fabric for these blinds is made out of a long sheet of material which folds up on itself, allowing you to stretch out the fabric to close the blind or push the folds together to close the blind.
Click Fit Venetian Blinds
Venetian blinds are another type of blind that is popular for click-fit window blinds. These blinds work exactly like any other Venetian blind, but they are fitted directly into each window frame of your patio door, rather than onto a wall or ceiling. These blinds set themselves apart by offering a great level of light control, as you can reduce or increase the amount of light you let in by rotating the blinds as well as opening and closing them.
Click Fit Honeycomb Blinds
Honeycomb blinds are quite similar to pleated blinds, but they're more geared toward blocking out light and providing insulation. These blinds are made up of a long strip of honeycomb-shaped fabric, providing two layers of fabric to prevent light from passing through them and providing insulation as air is trapped within the honeycomb sections of the fabric.
Best Shades For Fitting Over The Window Frame
If you want a window shade that hangs over the patio door, or the frames on your patio door are too large for click-fit blinds you still have a few options.
However, due to the size of an average patio door, you will have a small range of shades to choose from as you will want something that can cover the whole space with a single shade.
Window Curtains
Window curtains are a pretty easy option to choose to provide shade to your patio door, as curtains only move side to side you don't need to worry too much about the weight of the curtain fabric and can make it as large as it needs to be. The only drawback is that most curtains open from the center, whereas the entryway for a patio door is usually on the side, making it a bit awkward to go in and out with the shades closed.
XL Roller Blinds
XL roller blinds are another good option for shading your patio doors, if you want an over-the-door fit. While a single roller blind to cover a patio door will need to be quite large, that shouldn't be a problem as long as it is a quality made-to-measure roller blind, the weight of the fabric may make it a tad unwieldy to open and close, but this can be rectified by buying a motorized roller blind, rather than a chain operated one.
Vertical Blinds
The best choice available to you, if you're looking to shade your patio door with a single shade, is Vertical blinds. Vertical blinds provide a great level of light control, allowing you to move the slats side to side or to rotate the slats to let light in. Vertical blinds also benefit from the fact they can be opened from the side, making it much simpler to go in and out of your patio door without fully opening the shades.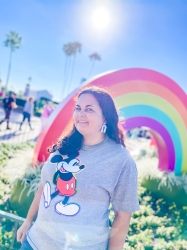 Latest posts by Krystal | Sunny Sweet Days
(see all)