The Visual Power Of Graphic Design: How Graphics Have Changed The World of Business
In today's digital world, graphic design has become an essential element in boosting the brand presence of businesses. A well-designed logo and website are the first impressions that potential clients get about any business. It is essentially how you present yourself to the world. While a simple business card or letterhead won't make or break your company, a good marketing strategy doesn't end with just great visuals. Graphic design is a broad field that involves a creative process to communicate ideas and images through visual elements such as colours, words, images, charts and other visual representations.
Graphic designers use various tools and software to create logos, websites, advertisements and other visual elements for businesses of all types, from finance and retail to game development and publishing. Read on to discover why graphic design is important, even if your business is small and what kind of impact it could have on any business venture.
What Is Graphic Design?
Graphic design is a creative process that uses visuals, such as images and logos, to communicate a message or idea. Graphic design is used for branding, logos, marketing materials, website design, and other visual marketing strategies. Graphic design has many sub-fields that include digital design, multimedia design, web design, branding, and user experience design (UX/UI). Graphic design uses various tools, software, and design principles to create effective visuals for your brand or product. Graphic design includes any form of visual communication, like logos, advertisements, or visual content. Visual communication is used to attract attention, inform, or create an emotional response.
Visual Identity Is Key For Brand Recognition
As consumers begin to make purchasing decisions faster than ever, it's important to establish a strong visual identity that will help create brand recognition. The goal of visual identity is to create a consistent look and feel throughout all brand communications. The same logo, colour palette, typeface, and imagery should appear in marketing materials and on the website. This consistency will help clients identify your brand more quickly and remember your company or product. Visual identity is a process that's often done with a branding agency or design firm. Once you've determined the message you'd like to convey to your customers, you'll work with the designers to create a logo, colour palette, typeface, and imagery that conveys the same message.
Advertisements Are A Great Way To Increase Brand Awareness
Advertising is an essential part of any marketing strategy, but it requires a creative approach to reach a wide audience. One of the most successful ways to advertise a brand is through the use of graphic design. Whether you opt for a TV commercial, magazine ad, or social media campaign, the design of your ad plays a major role in its success. For instance, many businesses nowadays utilize platforms to design Instagram stories online, making it easier to create eye-catching visuals that captivate their target audience. Visuals have always been used to catch the attention of potential customers, and marketers have used graphic design for decades to make their ads stand out.
Infographics Can Be Used To Educate Consumers
Visual content is not just used to attract consumer attention; it can be used to educate customers as well. If your product or service is complex and requires a lot of information, a graphic visual could help people understand your product better. As an example, having a detailed infographic on how a certain piece of equipment works or how it's used could make a much bigger impact than a simple paragraph.
Quality Graphics Enhance First Impressions
The first impression a customer has of your business is formed the moment they come across its logo or website. Isn't it interesting how even minor or seemingly unimportant details make a lasting impression on us? The colours you choose for your logo, the font you use for your website, and the images you display can make a big difference in the way your brand is perceived. But graphic design isn't just about logos and infographics; they also play a vital role in how customers perceive online games such as online casinos as well as the business's website. For example, when a customer is looking for the best new casino to try out, they want a way to compare multiple online casinos at once with an easy-to-use comparison website with well-thought-out graphics. This will help them not only trust the content they are viewing but also help them make the right choice, like this guide: New Online Casinos | Best Brand New Online Casinos 2022. This expert guide and site can help give you an idea of how to get started and what to look out for.
Using Typography To Influence Consumers
Typography is the selection and arrangement of typeface and letterforms in order to create a certain message or mood. It's used in many design fields, including graphic design, branding, product packaging, and digital design. Visual designers frequently use typography to create an impact on consumers or readers. For example, they will use bold or italicised letters to draw attention to certain parts of a website or ad. They may also use capital letters to create an impact.
Build Trust With Consumers
Brands are constantly competing for consumer attention, but the best brands aren't just the ones that stand out; they are the ones that earn and keep the trust of their customers. A strong visual design is essential for building trust, but there are other things you can do to help build a trustworthy brand. One of the best ways to build trust with customers is through consistent content. Consistent visuals and written content can help customers identify your brand and see that you are a trustworthy source. Visuals like your logo, colour palette, and written content, such as the tagline or slogan, should appear across all your marketing materials, including your website, social media, and written content.
Establish A Strong Online Presence
Today, the majority of consumers begin their purchasing journey online. Therefore, having a strong online presence is essential to boost your brand awareness. Having a beautifully designed website is a great start, but you also need to consider other visual elements. A well-designed logo, favicon, and other images can help draw attention to your website and create brand recognition. The logo should be visible on all pages of your website, including the homepage, about page, and contact page. The favicon is the small icon that appears beside the address in browser tabs.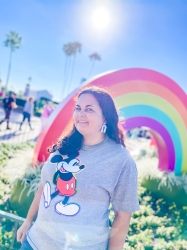 Latest posts by Krystal | Sunny Sweet Days
(see all)