Fitzgerald Museum and Airbnb in Montgomery, Alabama
Did you know that Scott and Zelda Fitzgerald lived in Montgomery from fall of 1931 to the spring of 1932? I didn't, and I consider myself to be a fan of both of their work. From watching movies like The Great Gatsby and TV shows like Z that show you a dramatic glimpse inside their writing and lives, I was very excited to step inside and be transported back to another time. 
Located at 919 Felder Ave # 919, this is the last extant house that the Fitzgeralds lived in as a family and serves as a monument to the legacy of the Fitzgeralds. It is also home to a unique Airbnb. The Fitzgerald Museum preserves their history and styled this home in a way that takes you back to 1931. 
The F. Scott and Zelda Fitzgerald Museum is the only museum dedicated to the lives and legacies of F. Scott & Zelda Fitzgerald in the world.  The Fitzgeralds lived here from 1931 until 1932, writing portions of their respective novels, Save Me The Waltz and Tender Is The Night during their time in Montgomery. We are open Tuesday thru Sunday, 10am to 3pm.Please contact us in advance for guided and/or group tours.
What is amazing is that you can actually STAY inside this home via Airbnb. Taken from their listing:
High atop the native magnolia trees sits a quaint one bedroom apartment housed in the former home of Jazz Age celebrities F. Scott & Zelda Fitzgerald.  This historic home houses the only dedicated museum to F. Scott & Zelda Fitzgerald in the world. The family lived here from 1931 until 1932, writing portions of their respective novels, "Save Me The Waltz" and "Tender Is The Night," during their time here. After the family moved, the home was subdivided into four apartments.
It is the last of four surviving homes throughout their travels across the world; the rest are private residences. Come stay in the home of literary legend F. Scott Fitzgerald and Montgomery native, painter, writer and dancer, Zelda Fitzgerald. The one bedroom apartment features modern amenities, like a full kitchen and bath. The master bedroom includes a Full sized bed featuring Fitzgerald bedding by SisCovers. There is a separate living room, dining room and sun porch- all with views of the sprawling magnolia tree on the front lawn. Guests have access to a complimentary tour of the museum, located in the downstairs portion of the historic Craftsman style home.

I am already dreaming of a romantic night in one of the suites with my husband in the future. It is the perfect place to stay in Montgomery, Alabama near the Old Cloverdale neighborhood. It is very walkable, and there are Cloverdale restaurants nearby that you would love!
Explore Montgomery
Learn more about Montgomery, Alabama on Facebook, Twitter, and Instagram. Follow #MyMGM for all the fun!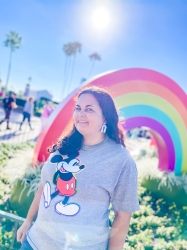 Latest posts by Krystal | Sunny Sweet Days
(see all)