Decorating Your Home Can Be Easy When Following The Right Steps
Decorating your home can be a daunting task. There are so many things to consider – from the paint color on the walls to the type of furniture you choose. How do you know where to start? Follow these simple steps, and you'll be well on your way to creating a beautiful home that you will love spending time in.
Decide on a color scheme
One of the first things you need to do when decorating your home is to decide on a color scheme. This will help you choose the right paint colors and furniture, or even tiles that will work well together. You can either go with a neutral color palette or something more bold and vibrant. If you're not sure where to start, look for inspiration in magazines or online. The right paint colors can make a difference in the overall look and feel of your home, particularly if your furniture or tiles are neutral. In terms of the latter, look for a tile shop that offers a wide range of colors and styles so you can find something that speaks to you. More often than not, you'll be surprised at how much of a difference the right tile can make.
Choose the right furniture
Your next step is to choose the right furniture. This includes both the style of furniture you want as well as the functionality. For example, if you have a small living room, opt for smaller pieces of furniture that won't overwhelm the space. If you have young children, it might be a good idea to steer clear of glass tables or anything else that could be easily broken. And if you're looking for storage solutions, make sure to choose pieces that offer both style and function. The right furniture can transform a room, so take your time in choosing what you want.
Add some finishing touches
Once you have your paint colors and furniture sorted, it's time to add some finishing touches. This might include things like rugs, or even candles. Again, the key is to choose items that complement your overall color scheme. And don't be afraid to mix and match different styles. A little bit of contrast can add interest to a room. For instance, if you have a more traditional style of furniture, you might want to add some vintage-inspired picture frames. Just remember to keep things balanced and not overdo them. Too many knick-knacks can make a room feel cluttered and busy.
Start with the living room and the bedroom
The living room is often the first room that visitors see when they come to your home, so it's important to make a good impression. Start by painting the walls or hanging wallpaper, and then choose your furniture. Once you have the big pieces in place, you can add some finishing touches like picture frames. A few well-chosen pieces will make a much better impression than a room that is crammed full of stuff so resist the temptation to overdo it.
The bedroom is another important room to focus on. After all, this is where you'll be spending a lot of time. Again, start with the walls and then move on to the furniture. If you're short on space, consider a Murphy bed or a daybed. These are great space-saving solutions that will still give you plenty of room to move around. And when it comes to the finishing touches, keep things simple. A few pictures on the wall or a vase of fresh flowers on the nightstand can make a difference.
Next, move on to the kitchen
The kitchen is another crucial space in your home. This is where you'll be spending a lot of time preparing meals, so you want them to be both functional and stylish. Start by painting the walls or adding wallpaper, and then choose your cabinets. The cabinets are one of the most important things in a kitchen so make sure to choose something that you love. For example, if you're going for a more traditional look, opt for wood cabinets. If you want something more modern, go for glass or metal.
And finally, don't forget the bathroom
The bathroom is often one of the most neglected rooms in the house but it's still important to make it a priority. After all, this is where you'll be starting and ending your day. Start by painting the walls or adding wallpaper, and then choose your fixtures. For the latter, it's important to choose high-quality materials that will withstand a lot of use. And when it comes to the finishing touches, keep things simple and elegant.
With these simple steps, you'll be well on your way to decorating your home in style. Your home is your sanctuary, a place where you can relax, unwind and feel comfortable. So make sure to take the time to decorate it in a way that reflects your personality and style. With a little bit of effort, you can create a space that you will love coming home to.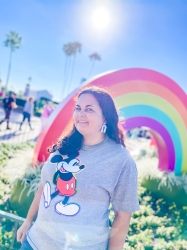 Latest posts by Krystal | Sunny Sweet Days
(see all)