This is a paid post sponsored by Viactiv. All thoughts and opinions are my own.
With school back in session and the holiday season approaching, this is the best time to make sure that you have a solid routine. I am the worst at keeping myself accountable for little tasks like returning phone calls, running to the post office, or finishing up that load of dishes. My attention span is short, and I find myself busy with work. I try to keep track of my to-do lists, but after a few days, I will falter. It is important to my family, and for my health, to make sure that I stick to my priorities. I've made a simple daily routine for you to follow to inspire you to just get started. By doing 1 important task a day, you can feel better and more productive over time. Plus, I have the scoop on Viactiv Digestive Health, which will help you and your body!
Daily Routine To-Do List
You can't finish your to-do list if you aren't feeling your best. Viactiv Digestive Health is a tasty and healthy way to get gut-strengthening bacteria. It is a probiotic-derived, chocolate chew that helps digestive upset* and has 1g Prebiotic fiber which feeds good bacterial growth++.
These chews balance gut bacteria by feeding the good bacteria that you have already, and it fights the bad bacteria… in a chocolate chew! You can get prebiotic fiber plus 10 billion cells of Lactobacillus bacteria which strengthens your digestive defenses. Viactiv Digestive Health can help with the occasional upset.* You can take one chew up to twice daily. The individually wrapped chews make it easy for travel.
Learn more about Viactiv Digestive Health online. Follow along on Facebook and Instagram as well for giveaways and special offers that you don't want to miss. Shop online at Amazon or at your local Rite Aid.
Ready to tackle your to-do list?
Use this printable for inspiration. I find that I feel my best when I take the time to do just one simple task a day that will make the week go better. Just one load of laundry, one errand, one phone call. It just starts with one thing.
Some of my favorite daily tasks… inbox zero! Clearing out my email is one of my favorite early morning activities…so I can have a fresh start to my day. After brushing my teeth, putting on SPF, and making sure I take Viactiv, I can take charge of my day.
Daily Routine Printables
What are your daily habits? What tasks do you need to make a routine?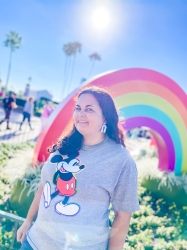 Latest posts by Krystal | Sunny Sweet Days
(see all)