I am participating in an influencer program on behalf of Claritin®. This program is paid for by the makers of Claritin® and I have received compensation for my participation. All opinions expressed are my own.
It feels like spring arrived later than usual this year. We are just now enjoying those breezy spring temperatures and sunny days. Since we are spending more of our time outdoors enjoying the weather, I knew I needed to stock up on our essentials so that we can truly enjoy our time in the sun.
Before I head out to my go-to store, Target, I always check Cartwheel. If you aren't familiar with Cartwheel, it's an easy way to save money when you shop. You simply access it via the Target app, and you can add your favorite deals. Since I knew we needed Claritin®, I was stoked to find savings inside the app! You can click here to add it to your Cartwheel app so you can start saving.
I bought Children's Claritin® Grape Liquid Medicine, located in the healthcare section near the pharmacy, to have on hand for our days outside. If you need relief from children's allergy symptoms, this is an easy option! Enjoy your life outdoors, playing sports, camping, or on the beach. Or, wherever your spring and summer vacation takes you!
With 24-hour non-drowsy allergy symptom relief so a child can play and participate in life, it's worth having for those moments when you need it most. As for us, here is our summer break plan. I hope to do a new activity each day of our break to maximize our time outdoors.
Mondays: Animals day. Enjoy the zoo, a farm, or a science center to learn more about animals.
Tuesdays: Sun and fun day. A trip to the beach, the park, or the pool to practice swimming.
Wednesdays: Sports day. Play a game outdoors (or inside!).
Thursdays: Creative day. Paint, color, draw, and create.
Fridays: Food day. Cook together in the kitchen, pick blueberries at a local farm, or try a new dessert out at a bakery.
What are your plans for this summer? Check out how we made a fun video with Goldfish crackers as a summer fun project!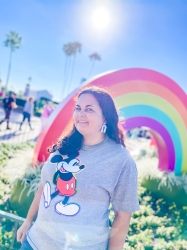 Latest posts by Krystal | Sunny Sweet Days
(see all)