Back to School Teacher Gift Ideas
This post contains affiliate links.
Teachers are the backbone of any school system. They put in long hours and create a sense of community for their students. Teachers should be recognized throughout the year, including the back-to-school season, with gifts that show that they're appreciated and valued. I've curated a list of gifts that will make any teacher feel special.
We have handpicked gifts for teachers according to their hobbies, interests, and personalities. Our goal is to help you find the perfect gift for your favorite teacher! There are many gifts that teachers can appreciate and enjoy.
Teachers Appreciation Gift Ideas
Here are some gift ideas for teachers:
1) Cards: These cards are available in a wide range of designs, and you can buy them from stores or online. You may also personalize them with messages from the children who love their teacher.
2) Personalized pens or pencils: These are exceptional gifts because they offer a personal touch. Teachers can use them to write with, or they can decorate their desks.
3) A set of handmade decorations for the wall or desk: Teachers will appreciate something that kids that love them have created. Kids can use felt, paint, yarn, and more to create something special for their teacher.
4) Coffee mug with a funny quote on it: Yes, coffee mugs may be overdone, but you might find a cute and clever mug that is worthy of being displayed! Coffee mugs with funny quotes on them are a popular gift item. These mugs make exceptional gifts for a lot of occasions such as birthdays, Christmas, and even Mother's Day. They also double as desk decor to store pencils and pens.
5) Nunbelievable cookies: Consider a gift that gives back. Nunbelievable cookies offer gluten-free and grain-free treats with a mission to give back. For every cookie pack sold, they donate a meal with one of their partners across the country. With a three-pack of cookies, you can ensure that they donate three meals. These cookies are soft baked and come in several flavors.
For a teacher gift, an assorted pack might be a good start since it has a variety of flavors. The 12-pack box includes 3 Chocolate Chip Cookies, 3 Gluten-Free Double Chocolate Cookies, 3 Peanut Butter Cookies, and 3 Oatmeal Raisin Cookies. The 6-pack box includes 2 Chocolate Chip Cookies, 2 Peanut Butter Cookies, and 2 Oatmeal Raisin Cookies.
6) Espresso machine: The espresso machine is a wonderful gift idea for coffee lovers. It's perfect for offices and homes alike, as it allows the user to serve up cafe-quality coffee in just minutes. If you're still not sure on what to get that person who loves their java, an espresso machine can give them the perfect pick-me-up every time.
7) Coffee subscription: Look into a service with monthly delivery or gift card to favorite local spot like your town's specialty coffee shop.
8) A desk calendar: You may find a cute calendar with a motivational quote on each page or find a white board to add extra planning space to their classroom.
9) A nice picture frame to place over their desk of your child's work or favorite photo
10) An Amazon gift card (or other online store) for easy shopping! Some teachers publish their wish lists on Amazon, so definitely ask ahead of time.
11) A plant for their office. Most teachers don't have the time or resources to take care of plants, so this is a pleasant way to make them feel appreciated and give them some life in their space! Have you thought about getting an air plant? They're super low maintenance and will just thrive on whatever light they from windows and lamps.
There is not one best gift for teachers. The best approach is to try to do research on the teacher before buying a gift. This way, you will know what their needs are and you can buy something that they will like. Sometimes parents will ask a teacher to fill out a survey at the beginning of the school year to document their favorites and ask questions like, "Do you drink coffee?" This way the parents know exactly what the teacher and the classroom needs. Happy shopping!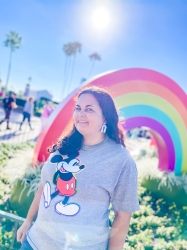 Latest posts by Krystal | Sunny Sweet Days
(see all)