6 Tips To Help You Design The Perfect Outdoor Space
Now that summer is just around the corner, you might be considering an upgrade or a makeover for your outdoor space. But what should you do to make your yard look it's very best? Here are six tips and tools to help you create a remarkably beautiful and functional outdoor living space.
Consider Color Scheme
Color is one of the most important considerations when designing an outdoor space. The colors you choose can set the tone for the entire space. If you want a bright and cheerful space, consider using light colors like yellow or white.
For a more relaxing atmosphere, use calming colors like blue or green. You can also use different colors for different areas of the space. For example, you could use darker colors for seating areas and lighter colors for walkways.
Another important consideration is the type of furniture and accessories you use. Make sure to choose items that are durable and can withstand the elements. Also, keep in mind that furniture placement can impact the overall feel of the space.
Use Quality Furniture
When it comes to designing your perfect outdoor space, one of the most important things is to use quality furniture. This furniture will be exposed to the elements, so it needs to be able to withstand sun, rain, and wind. It should also be comfortable and stylish. Look for furniture that is made from durable materials such as aluminum or teak.
Another important tip is to pay attention to the layout of your outdoor space. Make sure there is enough seating at any of your quality tables for all of your guests. Arrange the furniture in a way that encourages conversation and makes it easy for people to move around. Create different areas for dining, relaxing, and entertaining.
Finally, don't forget about the details. Add some pillows for comfort, blankets for warmth, and candles for ambiance. With some careful planning, you can design an outdoor space that is both beautiful and functional.
Design A Terrace
A terrace is a great addition to any home. It provides extra space for entertaining, relaxing, or simply enjoying the outdoors.
When designing a terrace, there are a few things to keep in mind. First, consider the size of the space. A terrace can be as small as a patio or as large as a deck. It all depends on the space you have available.
Next, think about how you want to use the terrace. Do you want to use it for entertaining? Or do you just want it to be a place to relax? This will help you decide what kind of furniture and accessories to include on the terrace.
Finally, choose a style that reflects your personal taste. You can go for a classic look, a modern look, or something in between. There are endless possibilities when it comes to designing a terrace. So take your time and find a style that you love.
Plant Decorative Items
If you want to add some personality to your outdoor space, consider planting some decorative items. You can choose to plant flowers, bushes, or even trees.
Adding some colorful plants to your space can really make it pop. If you don't have a lot of space, consider planting some herbs or veggies. This will add some function to your space as well as some decoration.
No matter what you choose to plant, be sure to take into consideration the amount of sunlight and water the plant will need. Do your research ahead of time so that you can be sure your plants will thrive in your outdoor space.
Maximize Storage And Functionality
If you're hoping to design the perfect outdoor space, it's important to think about both form and function. You'll want to create a space that looks great and that's also practical. One way to achieve this is by maximizing storage and functionality.
Consider incorporating built-in benches or planters into your design. This will provide plenty of seating while also freeing up space for other activities.
If you have a lot of garden tools or outdoor equipment, consider adding a shed or storage locker to your outdoor space. This will help to keep your space organized and tidy.
Use A Wall To Create An Outdoor Room
One of the best ways to create an outdoor room is by using a wall. A wall can provide privacy and help to define the space. It can also be used to hang outdoor lights or to display artwork.
If you have a small outdoor space, using a wall can help to make it feel more spacious. Paint the wall in a light color to make the space feel airy and open.
If you have a large outdoor space, you can use a wall to divide the space into different areas. Use different types of lighting to create different moods in each area.
We hope these tips have helped you get started on designing your perfect outdoor space. Just remember to keep your budget in mind, start with the basics, and add personal touches to make it feel like your own. With a little bit of planning, you'll be enjoying your new outdoor oasis in no time!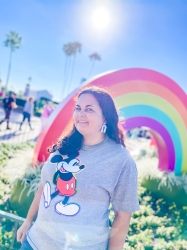 Latest posts by Krystal | Sunny Sweet Days
(see all)