Ways to Prevent Fall Injuries At Home
It has been estimated that nearly one out of every four seniors endure a fall. This makes 36 million falls in the U.S. alone. People over 65 also tend to face problematic injuries due to accidental falling. Thankfully, these falls can be prevented to a great extent by taking the proper measures and adequately setting up your home.
However, if an older person sustains injuries from an accidental fall, consult a doctor immediately. The doctor might change up medications/diet and even ask for the incorporation of light exercise. You should also maintain and manage your home to prevent future falls or tripping. This fall prevention guide has all the tips you need to avoid any severe injuries from falls.
Ensure your house has proper lighting so adults with poor vision can easily see where they are going. Place bright lights throughout your home, make use of bed lamps and encourage turning lights on before someone starts walking up the stairs. It is also recommended to keep torches/flashlights in drawers or cupboards around your home in case of power strikes or other emergencies. You can also use illuminated switches instead. Lastly, light up the outdoor space, so everything is visible at night or on a cloudy/rainy day.
Improving safety inside the house is essential, but so is Improving safety outside the house. All items in the house should be organized to reduce the chances of tripping and falling. All rooms should be tidy with little to no clutter. Nothing should be left on the floor, doorways, or stairs. Always remember to remove garden tools once you have finished working. Repair stairs, patios, porches, sidewalks, or any cracked and wobbly pathways, as these can be hazardous.
Devices that can aid people in moving about are known as assistive devices. Making use of these can help an older person move around more easily. You will need to get in touch with a doctor to see what device the seniors in your home require. This could be a cane, walkers, or other walking equipment. Some gadgets/tools you can use around the home to assist older adults include:
● Elevated toilet seat
● Anti-slip stair treads
● Handrails on both sides of the stairs
● Bathroom grab bars
● Plastic bath seat
● Wearable fall detectors
Invest in the Correct Footwear and Eyeglasses
A comfortable pair of shoes prevents excessive pressure on joints, making walking easier. Slippery soles, floppy shoes, socks, high heels, and shoes that do not correctly fit increase the chances of falling and injury. Shoes must be the correct size, should be anti-skid, and sturdy. For further ease of use, elders can use vibrating shoe insoles to improve balance.
Regular eye checkups ensure that the seniors in your home wear the correct eyeglasses. Blurry vision and bifocal or progressive lenses increase the task of tripping. The lenses should be of the right power, and seniors that use bifocal/progressive lenses must walk slowly. Having more than one pair of glasses is also a good idea.Single-vision glasses help prevent falls by making the view clearer, and bifocals are good for making it easier to read text. Other things you can do to improve safety include:
● Placing everyday household items within reach
● Adhering small rugs to the floor, as they can cause trips
● Removing all power cords or electrical boxes from walking zones
● Alerting house members when the floor has just been mopped, and clean up liquid spills immediately
● Make all beds, chairs, sofas, or other seats easy to access
Making changes inside and outside your home can help seniors and the elderly see clearer, walk more easily and comfortably move around without any risks of falling. It is also necessary to ensure they have the proper footwear and eyeglasses to prevent falls due to tripping or blurry vision. Taking the right precautions can help prevent serious injuries.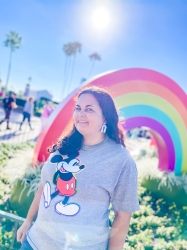 Latest posts by Krystal | Sunny Sweet Days
(see all)