5 Simple Ways to Add More Fruits and Greens to Your Meals
Fruits and greens are packed with nutrients and vitamins that are vital for bodies. From improving digestion to boosting immunity, incorporating more fruits and greens into your diet can significantly impact your overall health and well-being. If it's a challenge to incorporate these foods into your meals daily, you can always resort to nutridyn fruits and greens to meet your nutritional requirements. You can also look at the following section to learn a few simple ways to easily incorporate more fruits and greens into your meals, even with your busy schedule, and make them more enjoyable.
1. Start the day with a green smoothie.
A green smoothie is a quick and easy way to get a serving of fruits and greens first thing in the morning. Simply blend your favorite fruits, a handful of greens, and some liquid, and you'll have a delicious and nutritious breakfast in no time. You can experiment with different ingredients and flavors to find what you like best or try one of the many green smoothie recipes available online.
2. Make a colorful salad.
Salads can be an excellent way to add more greens to your meals, and incorporating a variety of colorful fruits and vegetables can make them even more nutritious and enjoyable. Choose a mix of greens, such as spinach, kale, or lettuce, and add some fresh or dried fruit, such as berries, apples, or raisins. Top it off with some nuts or seeds, and you've got a tasty and nutritious salad that is sure to please. But if all this looks like too much work, you can always fall back on nutridyn fruits and greens.
3. Add a fruit salad to your menu.
Fruit salad is another easy way to get more fruits into your diet. Simply chop up a mix of your favorite fruits, such as melons, berries, and grapes, and mix them in a large bowl. You can serve the fruit salad as a side dish or enjoy it as a snack, and it's a great way to get a serving of vitamins and fiber. To make it even more nutritious, consider adding nuts, seeds, or a drizzle of honey for added flavor and crunch.
4. Include fruit in your snacks.
Including fruit in your snacks can add more nutrients to your diet and keep your energy levels up throughout the day. Fresh fruit is one of the simplest and healthiest snacks you can have. Apples, berries, and grapes are all great options that are easy to grab and go. You can also try slicing up some fruit and keeping it in a container in your fridge for an easy and convenient snack.
5. Add greens to your favorite dishes.
Adding greens to your favorite dishes is a simple and effective way to get more nutrients into your diet. Try sautéing spinach or kale with your eggs, adding lettuce or mixed greens to your sandwich, or tossing in some mixed greens to your pasta or stir-fry. The options are endless, and it's a great way to make your meals healthier and more enjoyable.
Conclusion
Whether incorporating fresh fruit, adding a fruit salad, or swapping out processed snacks for healthier options like smoothies, there are many ways to add more of these nutrient-rich foods to your diet. By making these small changes, you'll enjoy all the benefits of eating a diet rich in fruits and greens.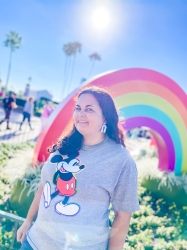 Latest posts by Krystal | Sunny Sweet Days
(see all)