5 Beach Perfumes That Smell Like Vacation in Florida
The countdown to a beach vacation can be filled with anticipation and excitement. To add to the experience, why not choose a new beach perfume to bring along on your trip? Not only will it enhance your beach experience, but it will also serve as a reminder of your vacation once you're back home. To help you find the perfect beach scent, we've compiled a list of our top 5 beach perfumes that smell like Florida.
London Wood Sage & Sea Salt by Jo Malone
This sophisticated fragrance is a beautiful blend of sea salt and woody notes of sage, delicately sweetened with ambrette seeds.
The unique combination of these ingredients creates a scent that evokes the feeling of standing on the beach with the sea breeze in your hair. The sea salt accord is weightless, creating a fresh and clean scent that immediately brings to mind the ocean. The addition of woody sage gives the fragrance a touch of earthiness and grounding, making it perfect for those who seek to bring a bit of peace and nature with them wherever they go.
Jo Malone Wood Sage & Sea Salt is the perfect beach perfume, it evokes the feeling of a peaceful sea vacation, it's a reminder of the beauty and serenity of the ocean and a place where you can finally breathe free. It is one of the best perfumes that smell like the sea and that can transport you to your favorite memories of a seaside vacation.
Soleil Blanc by Tom Ford
Introducing Soleil Blanc by Tom Ford, a luxurious and seductive Amber Floral fragrance for women and men. This fragrance is alive with seductive cardamom and refreshingly decadent ylang ylang and unapologetically exudes the endless pursuit of sun and luxury.
Top notes of Pistachio, Bergamot, Cardamom, and Pink Pepper are combined with middle notes of Tuberose, Ylang Ylang, and Jasmine, and base notes of Coconut, Amber, Tonka Bean, and Benzoin.
The scent is contained in the iconic, white Private Blend bottle, capped with a gold-tone metal inset, and the flacon has the architectural look of a chess piece, adding monumental beauty to any vanity. With Soleil Blanc, Tom Ford has created a scent that is described by perfume-suggestion website heyscent.com as "unexpected, sultry, and addictive" – the perfect perfume to evoke the feeling of a vacation in a bottle.
Acqua di Gioia by Armani
This perfume encapsulates the feeling of a perfect day spent by the ocean. Acqua di Gioia is the epitome of a beachy, refreshing scent that will transport you to the Gold coast.
With its key notes of jasmine, gardenia, and warm woods, Acqua di Gioia is like a breath of fresh sea air. It opens with a clean, fresh citrus scent that invigorates the senses, and then unveils a heart of intoxicating jasmine that's sure to turn heads. And as the scent lingers, you'll pick up on the warm and comforting scent of cedarwood that will bring a sense of serenity.
If you want a perfume that reminds you of clear blue waters, white sandy beaches and warm sunshine, Acqua di Gioia is perfect for you. It's a singular blend of serenity and exhilaration, just like the ocean coast that inspired it.
Coconut by Demeter
When you'll be missing the warm sunshine and sandy beaches, reach back for your Demeter Coconut. This fragrance is sure to take you back to your fondest memories of your tropical vacation.
With just a spritz of Demeter Coconut, you'll be transported to an island paradise with its rich, heady blend of all things sweet. Imagine sipping on fresh coconut water and feeling the sand between your toes – that's the kind of vacation vibes this perfume will bring you.
The top note of heavy coconut is complemented by sweet, milky, and tropical accords that make for a delicious and inviting scent. Whether you're just taking a stroll on the beach or getting ready for a night out, the scent of Demeter Coconut is sure to turn heads and leave a lasting impression.
Eau Rose Solid by Diptyque
This is a beach perfume that evokes the feeling of a vacation. It's known for its complexity and its inspiration from specific locations around the world.
This perfume is composed of two of the world's most precious and rare types of roses, Rosa Damascena and Rosa Centifolia, sourced from Bulgaria and Provence respectively, paired with fresh chamomile and sweet lychee, creating a fragrance that is light, memorable, and distinct. The floral rose notes are balanced by a green artichoke accord, making it a great unisex option.
The solid perfume option is perfect for those who are planning to travel, and it comes in a beautiful refillable box with an illustrated rose on top, which is not just nice but also eco-friendly.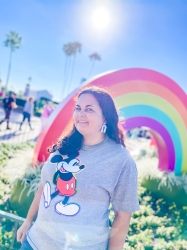 Latest posts by Krystal | Sunny Sweet Days
(see all)