Upsizing Your Home: 7 Things You Need to Consider
When you first bought your home, it was probably perfect for you. However, as you progress through life and your circumstances change, your once-perfect home is likely to become cramped and not fit for purpose. This is why a lot of people end up up-sizing. Obviously, up-sizing represents a sizeable investment which is why it isn't something to be entered into lightly. If you are thinking about trading up, then there are a few things that you will need to bear in mind. Keep reading to learn more.
Upsizing is Not Your Only Option
First things first, before you even commit to upsizing, you need to think about whether you have any other options. Sometimes, upsizing isn't the best choice. The home that you want isn't necessarily going to be easy to find; it really depends on the state of the market. For example, if you need a home with more bedrooms, you might be able to find a property with the number of bedrooms that you are looking for, but they might all be smaller and actually provide you with less livable space.
It might make more sense to renovate your current property and add to it if you have enough land surrounding your property. Why move to a different house if you can build a cozy extension filled with sleek customized storage, beds, and everything else you might need?
Changing Neighborhoods
Depending on where you live currently, you might not be able to find any local opportunities to upsize. For example, if you currently enjoy urban living within an apartment in the city, you are likely to need to move to a more suburban area in order to upsize to a bigger home. Upsizing could mean moving to a new neighborhood which can be difficult for some, especially if you are attached to your neighborhood because of the transport links, nightlife, entertainment or simply the convenience that it offers. This is why research is so important when it comes to finding neighborhoods that speak to you and have the amenities that you are looking for.
Consider Your Needs & Goals
The most common reason to upsize is simply that you need more space. However, it is worth thinking a little more critically about why you need more space. Perhaps you need more bedrooms to accommodate your growing family. You might have enough bedrooms, but the land surrounding your property is a little small, so you are looking for a bigger yard. Maybe your kitchen or living room is too small, and it is impeding your ability to host and therefore, you want to upsize. You need to make an effort to be a little more specific when it comes to what you want from a property going forward. This can then help you to come up with your list of essential and desirable specifications, which you can then use when choosing properties to view. EZ Home Search can help you to find these properties once you have a more solid idea of your criteria.
Your Budget
Obviously, one of the biggest considerations that you will need to make when upsizing is your budget. Before you start looking at houses, it might be worth having your home valued first to give you an idea of how much you will be working with. A lot of people pay off their mortgage with the money they get from the sale of their house before using any additional profit as a down payment for a bigger house. In addition to this, you will also need to think about your income and what monthly payments you can conceivably make. Whether or not your mortgage repayments will dramatically increase largely depend on the down payment that you can offer on the house. A bigger house does also tend to come with higher running costs too.
Be Realistic
It is really easy to find yourself getting carried away when it comes to upsizing. You think that because you are looking for a bigger property anyway, you might as well go for the higher end of your budget, finding the biggest property for your money with the most space. A lot of people think this to be a shrewd financial move planning to grow into the home over time and avoiding having to upsize again. However, this might be a waste of money if you end up in a property with a lot of space that you don't end up using. Instead, it makes more sense to stick to your specifications and go for a property that might be towards the lower end of your budget, but has the right amount of space for your family. In doing so, you are likely to get a better deal on your mortgage, and it can help you to avoid financial hardships further down the line.
Think About Long-Term Costs
Obviously, upsizing does constitute a bigger upfront cost in the price of the house itself, but a lot of people are prepared for this. They don't, however, put the same amount of thought into the increase that they can expect in the long-term costs associated with upsizing. When you choose a property with more square footage than your previous property, you can expect higher property taxes going forward as well as increased maintenance costs and higher utility bills. This is why it is imperative that you do your research before moving forward. You need to ensure that you can afford these costs without becoming house poor. Think about your current budget and how much disposable income you have to work out whether your budget can comfortably absorb these increases without taking too much money away from other areas of your budget.
The Resale Value
It might seem counterproductive to consider the resale value of a home that you have yet to buy and plan to live in for some time once you do buy it, but it is worth considering. Most people do end up downsizing once the children have left the nest or they get older, and the home becomes more tiresome and challenging to keep. By choosing the home and its location wisely, you can all but guarantee a good profit when you do come to sell the home on later. This is why you should always view homes with their resale value in mind. That being said, property always appreciates in value for the most part unless, of course, extenuating circumstances affect the property market or the economy as a whole.
In Conclusion
Choosing to upsize your home and move into a bigger property is a big decision; it isn't something to do lightly. In addition to the financial burden that upsizing can pose, there are several other things that you should be aware of, as outlined above. You might have to move to an entirely new neighborhood in order to find a property that is the size that you are looking for; you should also consider the resale value of the new property as well as the needs of your family too. Remember that upsizing is not your only option, you could choose to renovate your current property, build an extension, and increase your living space that way, but this is often a lot of work which might not be ideal depending on your family circumstances.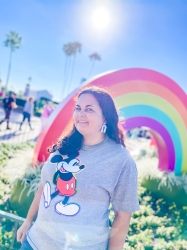 Latest posts by Krystal | Sunny Sweet Days
(see all)