6 Unique Types Of Hats You Should Definitely Check Out
Hats have been an integral part of fashion for centuries, with different styles and materials being used to create fashionable headwear throughout the years. From traditional fedoras to modern baseball caps, hats are timeless accessories that can add style and personality to any outfit. In this article, we'll take a look at some of the most popular hat types available today, including their history and origins as well as tips on how to choose the right one for you. So whether you're looking for something casual or formal, there is sure to be a type of hat that will suit your needs!
Scrub Hats
These hats are typically worn in medical settings and feature a piece of fabric that covers the head and can be tied back or tucked into a collar. They come in a variety of colors, prints, and styles to match different uniforms. Keep in mind that men's scrub hats may be slightly different than women's, so it's important to measure your head before purchasing one. They are a functional and practical way to keep hair out of the face.
Trucker Hats
Browse a variety of colors and styles for trendy trucker hats.
Fedoras
These classic hats have been around for centuries, with their popularity peaking in the 1920s. They feature a wide brim and a pinch at the front or center of the crown, giving it its distinctive shape. Fedoras are typically made from felt and are a stylish choice for both men and women. The classic look of the fedora can be dressed up or down, depending on the occasion. They look great when paired with a suit for a more formal event and can be worn casually with jeans or shorts. The fedora is the perfect accessory to complete any look!
Panama Hats
Considered one of the most stylish hats, Panama hats are lightweight, handmade straw hats that originated in Ecuador. These luxurious hats have been made since the 17th century and are perfect for formal occasions or summer days. The straw is usually woven together with a combination of toquilla palm, paja, jipijapa, and carludovica palms. They can be worn either pulled down over the forehead or further back on the head, depending on preference. It is important to note that because Panama hats are handmade, each one is slightly different and generally more expensive than other varieties of hats.
Berets
A timeless French style, this hat is a round cap with an extra-wide brim. Berets were originally made out of wool but modern versions can come in various materials including leather, cotton, and felt. Berets are typically associated with artists, intellectuals, or anyone who wants to add a classy touch to their outfit.
Berets are a great way to add some style and flair to any outfit. They work both in casual settings and more formal settings, so you can dress them up or down depending on the occasion. For example, pairing a black beret with a leather jacket gives off a cool and effortless vibe, while wearing one with an elegant evening gown adds an air of sophistication and mystery.
Baseball Caps
Baseball caps are ideal for everyday wear and come in a variety of colors and styles. You can find fitted caps or adjustable ones with snapbacks. They can also have embroidered logos, patches, or designs depending on the style. Baseball caps are perfect for casual events like going to the beach, or park, or just hanging out with friends. They give you a cool and effortless look while keeping your head covered from the sun's rays. They are also a great way to show off your favorite sports team or school.
Beanies
Beanies, or skullcaps, are a type of hat that provides coverage for the head and ears. They typically have a snug fit around the head, but can also come in more relaxed fits as well. Beanies come in a variety of fabrics such as wool, acrylic, cotton, and synthetics. They also come in a variety of colors, making them a great choice for any style or occasion. Beanies are perfect for colder weather, as they provide extra warmth to the head and ears.
In conclusion, hats are a great way to express your personal style and make a fashion statement. From fedoras and Panama hats to baseball caps and beanies, there is a wide variety of options available so you can find the perfect hat for any occasion. Whether you're looking for something to keep your head warm in the winter or just want to add some flair to your outfit, there is a hat for you! Make sure to pick the one that best fits your style, and you'll be sure to turn heads wherever you go.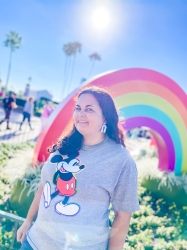 Latest posts by Krystal | Sunny Sweet Days
(see all)