Are you planning on your own road trip down to Paradise City? Don't you cry, it's so easy to keep your vehicle maintained thanks to Pennzoil and Walmart. So to get you and your car ready here's a quick checklist for your pre-road trip preparations. The last thing you want is to end up walking in a cold November rain.
Needless to say, the first thing you are going to need is a car. You can compare loans with Plenti if you are looking for a car at the moment.
Car Care Tips For Road Trips
Check your oil: Even if you are not due for next oil change, it is a good idea to check your levels before you head out on a long trip. When vehicles reach 75,000 miles, it's time to make the switch to Pennzoil Platinum® High Mileage Full Synthetic motor oil with PurePlus® Technology for complete engine protection.

PurePlus® Technology uses a revolutionary process that converts natural gas into pure synthetic base oil. Combining it with high-performance additives means Pennzoil Platinum® High Mileage Full Synthetic Motor Oil is proven to deliver less oil burn off than conventional motor oils made from crude oil.

Additionally, Pennzoil Platinum® High Mileage keeps pistons up to 20% cleaner than the toughest industry standards to help keep the engines running clean and performing strong.
We picked up Pennzoil online at Walmart. You can shop online, choose in-store pickup, or shop in the store. Curb-side assistance? You can do that too! Just provide your name and the time you'll be there to pick it up, and a Walmart employee will bring your items to you. It was easy to order online and have it delivered right to our doorstep!

Inspect your tires: Before you hit the road, it is a good idea to check the air pressure in your tires and look for any objects that have punctured the tire walls or may be causing a slow leak. At high speeds, these things can lead to a catastrophic failure. A quick check when you fill up your gas tank can reveal some problems before that happens.
Top off your coolant: Whether you are driving through Florida summers or New England winters, it's probably a good idea to top off your antifreeze/coolant levels anytime you plan on driving through temperature extremes. Just make sure to do this before you get the road since removing your radiator cap from a hot engine can become hazardous because of the potential pressure.
Test your lights: Another thing to check that only takes a few moments before an extended road trip that could end up saving you plenty of time and heartache once you are on the road are your headlights, taillights and turn signals. A simple rundown of your lights might save you an expensive ticket.
Wipers and fluids: Chances are you don't always know you are in need of new windshield wipers until you find yourself driving through a torrential downpour. It only takes a few moments to check and see that your wipers are functioning at their peak and top off your wiper fluids before you potentially drive through a rainstorm or a swarm of lovebugs.
P.S. Don't forget about your trunk!
We use a bin to keep all of our trunk accessories organized. We use baby wipes, paper towels, a sunshade, and even air freshener so that our car is ready to go at any moment! Want to create your own car care kit? Use our tips!
With just a few minutes before you set off on your magical journey, you could potentially save hours or even days of your trip. You can't say that nobody ever told you how it was going to be. And don't forget to check out Walmart.com to stock up on Pennzoil products whether it is for a full oil change or just to top things off between servicing.

And, now, when you take advantage of Walmart's online ordering with in-store pickup, you can score the ultimate music getaway.  Just purchase any two qualifying Pennzoil Motor oil (in-store or online) to receive $10 in Ticketmaster Ticket Cash. All entrants will also be entered into a sweepstakes to win tickets to a Guns N' Roses concert as part of their "Not In This Lifetime" tour.
Heading out on the road soon? What are your car tips?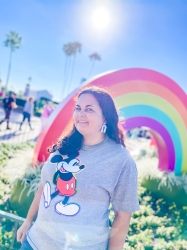 Latest posts by Krystal | Sunny Sweet Days
(see all)