Reasons to Start Planning Your Next Summer Vacation Now
Summer is often a high travel season. As a result, airports are busier during this season, and travel prices also go high. Summer is the ideal season for vacation because it coincides with school holidays and several festivities. It's a perfect time to visit beautiful beaches and other excellent and scenic locations. However, people often give themselves less time to plan for summer vacations, which affects the quality of their holidays.
Below are all the reasons why you should start planning for your next summer vacation now.
Planning For Your Next Vacation Now Is Less Stressing
Early planning helps you factor in all your travel arrangements ahead of time. This ensures that you'll have time to organize all the details of your vacation at your own pace without the stresses that come with it. Last-minute planning will force you to pack in a rush, and this will make it even harder to carry out all your reservations and navigate the airport, leaving you all stressed up.
Next, you need to focus on what you will be doing during your holiday. If you are visiting Florida, this checklist on things to do in Navarre Beach offers a full list of activities you can participate in during summer vacation, including:
Family-friendly beach activities
Combing the beaches for seashells
Touring zoos and animal parks
Cruising
Going on nature trails
Taking the time to sample a range of rare cuisines in restaurants.
It's also worth thinking about your hobbies. For example, if you enjoy fishing, think about booking a fishing-friendly place for your holiday.
Requesting for Early Vacation Leave from Work
Summer is a busy season in most parts of the world. Therefore, it would be a wise idea if you requested your holiday leave before anyone else does. There are also popular dates like Labour Day and July 4th when everyone wants a day off work. When most employees from the same organization ask for days off in the same season and the days coincide, you might be denied an opportunity to enjoy your summer vacation. You'll, by all means, want to avoid such inconveniences by letting your employer know early enough that you would be away for a holiday on certain days of summer.
Planning Now Will Also Give You More Time to Plan Your Itinerary
Your summer vacation starts when you lock your doors, heading either to the airport, railway station, or bus stop. As for airlines, early booking often comes with travel discounts, and you might get to have the best seats. The same applies to trains. Now comes the most challenging part of marking out your route; you'll want to ensure that all your destinations and places that you might want to visit are marked out on a piece of paper or the map.
Early planning is one of the ways you can ensure an all-inclusive trip. Late planning would have you resort to restaurants that do not suit your interests as the best ones will be already fully booked.
No Rushed Packing and Last-Minute Shopping
One of the essential things that would make your travel plans more efficient is having a packing list. This list will enable you to pack all that you will require for your vacation. With more time, you can identify what you need to purchase, plan when you'll do it, and buy it at your convenience. At the same time, this means creating a vacation budget earlier on. Packing in a rush will see you forget the essential items for your vacation, and this is a recipe that might ruin your trip.
The earlier you plan for your summer vacation, the more time you'll have to plan and prepare for all that you will need to achieve a memorable holiday. Early planning will also prevent you from succumbing to work pressures and last-minute inconveniences. You have the above pointers to consider before making mistakes you'll not be comfortable living with during the summer holiday.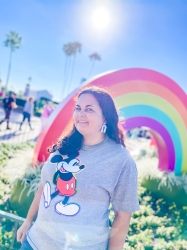 Latest posts by Krystal | Sunny Sweet Days
(see all)