Popup Campers vs. Tents: The Complete Rundown
If you're considering going camping, then you're probably wondering what kind of gear you should bring to keep you safe. Do you want a popup camper or a tent? Are there benefits to one over the other? Which is easier to pack and put up? Knowing what you're getting into before you buy a camper or tent can make all the difference in the world on which choice you'll make.
The Advantages Of Popup Campers
New or used popup campers, they've been around for a pretty long time, and for very good reasons. They provide a wind range of benefits that people have been enjoying for years.
Less packing involved: even small popup campers will have some kind of bed built into them already so there's no need to pack anything extra for your comfort. They also come with storage space inside for your camping gear. Some even come loaded with a kitchen, mini-fridge, a sink, and sometimes a working toilet so there's no extra gear to pack up for your comfort.
Great climate control: you won't have to worry about being too hot or too cold in your popup camper. They usually come with heaters to keep you warm if the temperatures drop at any point, as well as air conditioners. But keep in mind that these features might be more expensive.
They have power: although the point of camping is to get away from technology, it doesn't hurt to have a source of power to keep your devices charged in the event of an emergency. They have their own 12-volt battery bank and electrical system that can be hooked up to the grid or a generator.
The Advantages Of Tents
Although popup campers have a lot of advantages to them, there are some people who still choose to go with tents, preferring to actually rough it rather than having to deal with a camper. Here are a few advantages.
More privacy: although popup campers do have more room to sleep more people, there's not much privacy. Those people all have to share the same space when they're not sleeping. Large tents, on the other hand, can have multiple rooms so that everyone has their own space.
Expense: popup campers tend to be more expensive; the more you pay, the more features that you'll have, ranging into the thousands of dollars. A 10-person tent, on the other hand, will cost about $300. Even with the costs of the rest of your equipment and food, it will still cost less than a thousand dollars.
Maintenance: tents are much easier to maintain because there are no inner works. The only maintenance it needs pertains to its materials, if a pole gets bent or the material rips. A popup camper, on the other hand, requires maintenance of all the features, from the heaters and AC to the kitchen and working toilets.
No matter which one you go with, there are some advantages to one over the other. It really depends on what kind of camping experience you want to have as well as how much money you really want to spend.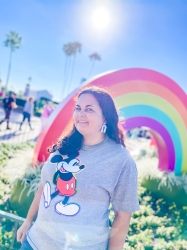 Latest posts by Krystal | Sunny Sweet Days
(see all)