Places to Visit In Spring Time
Springtime is the peak tourist season in Florida and signals the arrival of warmer weather. Although most of Florida doesn't get too cold, the weather in spring is ideal for having fun on the beach. During spring, numerous festivals are hosted in Florida, making it the perfect time to visit different destinations, embrace the sunshine, and soak in the refreshing spring air. Here are a few Easter destination ideas during springtime in Florida.
Daytona Beach
With its clear turquoise water, white sand beaches, and vibrant nightlife, Daytona Beach is one of the most popular beaches in the country. Tourists can keep themselves entertained by visiting the numerous nightclubs and bars near the beach.
Daytona Beach is a large area with 23 miles of pristine beaches to explore. There are also various museums in the beach town you can visit. To get around, you can use one of several modes of transportation, including bicycles, public transportation, and rental cars.
Beaches in the town are not only beautiful but also safe for swimming. There are different restaurants by the beach with unique and delicious menus. Some restaurants even have outdoor dining and gardens.
Springs State Park in Fort White
Fort White is renowned for its natural springs, where you can go swimming, kayaking, diving, and tubing in crystal-clear waters with shades of blue and deep green. The temperature is generally around 70 degrees in Spring, which makes it the perfect time to go for a refreshing dip. There are also campgrounds within a few miles of the park where you can camp out.
Orlando
Orlando is located in central Florida and is one of the top vacation destinations. The city is filled with gardens, shopping malls, and theme parks like Disneyland. During Spring, the Fringe Theater Festival in Orlando allows you to enjoy theater and music and engage in different art-related activities.
There is also the Epcot Flower Festival held in Spring that showcases a beautiful and captivating display of flowers. The festival includes outdoor kitchens and live concerts. You can also visit Sea World to view dolphins, stingrays, and other marine animals. If you want to spend a peaceful and relaxing day in the city, you can visit Lake Eola Park and ride one of the swan boats.
South Beach Miami
South Beach is colorful and bold. There are museums, such as The Bass, which you can visit to see some incredible art exhibitions. There is also a botanical garden that holds horticultural seminars, live music events, and meditation classes. In addition, South Beach is packed with exquisite restaurants, clubs, and bars. Some bars even offer outdoor activities such as scooter rentals and kayaking. Save money on your next trip with exclusive member deals on Travelpass.
Sarasota
If you are a fan of jazz music and want to spend time in Florida during the spring season, you would visit the Sarasota Jazz Festival. You can enjoy vibrant concerts and listen to some of the best jazz musicians from the U.S. and other places in the world. There are also food and beverages available to be purchased at the festival.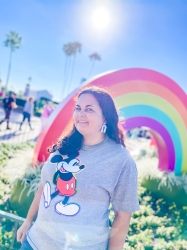 Latest posts by Krystal | Sunny Sweet Days
(see all)