5 Gifting Ideas To Please Your Partner This Holiday Season
They say there exist five languages that we love to express and receive affection. However, gifting is an art that many people are trying to master. Not only is it one of the most effective ways to light up your special someone's mood, but also shows how well you know them. If you're struggling to find holiday gifting options for the love of your life, there's not a lot of time left! Thankfully, we've got your back! This blog will talk about five sweet and fool-proof gifting options that they would absolutely love!
DIY crafts: While gifts are always a grand gesture, sometimes sentiments can be conveyed better through handmade crafts. Take the time to pursue a small DIY project for the love of your life, be it writing love letters or knitting them a shawl. These may be new skills to learn but they also can be fun if you enjoy creative arts. The look of joy and surprise on their face will be well worth the work, which is why they call it love's labor!
Go designer: If DIYs are not your style and you love to pamper your significant other with expensive gifts, try gifting them designer accessories. Having a few men's designer hats in your beloved's closet can help you quickly add more character to their outfits throughout the seasons. Not only can you get them a unique piece, but you can also add a little spice to their wardrobe. For your partner, a Tycoon hat or fedora would never go out of style. Regardless of the design and style, designer gifts make memorable and special places in every recipient's heart.
Make a comic book: Today, there are several couple goals trends that are making the rounds. If you love to get cute and mushy with your partner, one of the best ways is to turn your pictures into a comic. There are several artists you can commission your requirement to who can get the job done beautifully. These can be turned into caricature art, graphic pieces, or hand-drawn comics that you and your partner can look back at fondly.
Gift a fragrance: One of the most powerful senses that we rely on to seek familiarity is the scent. Does remembering your partner's fragrance make you feel warm and fuzzy all over? You could take that as a cue to get them a bottle of their signature perfume to say things that words can't express enough. If you know your significant other's preferences, you can also gift them a new bottle of cologne so that they can feel as amazing as you do in their presence!
Book a holiday: What would be a better way to celebrate the upcoming holiday season than book a mini getaway? Planning short trips and vacations during the later part of November will become extremely expensive and limit your options since everyone starts to book during this window. Instead, act quicker and make your bookings at better deals to make sure you can gift your partner enjoy a luxurious vacation!
Wrapping Up:
Now that we've shown you five interesting gift ideas that you can woo your love with, what is your favorite approach? We hope that you enjoy gifting these as much as they love receiving them from you. In the long run, it's the thought that counts, so put all your heart into it!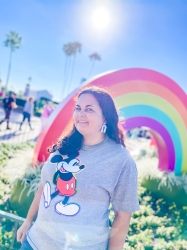 Latest posts by Krystal | Sunny Sweet Days
(see all)