Exploring England's Northern Delights
If you're looking for a place to explore, the North of England has plenty to offer. Whether you're looking for picturesque views, fascinating historical sites, or simply fun activities to keep everyone entertained, this region has it all! With an abundance of options for accommodations, getting to the North of England is easy and stress-free.
Doncaster train station is one of the main places to catch a connecting train; trains from London to Doncaster have an average travel time of around 2 hours. Read on as we take a look at some of the best places to stay in the North of England.
York
York is an ideal destination for travellers who are eager to learn more about British history and culture. Home to iconic structures such as York Minster and Clifford's Tower, York offers plenty of opportunity for exploration. There are also plenty of things to do if you're looking for something more active; the city boasts its own riverfront, complete with kayaking and fishing opportunities. In town, there's also a wealth of shops and restaurants that can provide entertainment no matter what your interests may be.
Durham
Just south of Newcastle lies Durham, known for its stunning Cathedral and Castle, which are both designated UNESCO World Heritage Sites. The city is also home to Durham University, which provides cultural attractions such as art galleries and museums open year-round. For those who are feeling adventurous, there are plenty of walking trails in nearby areas, such as Weardale or Teesdale, that can provide beautiful views and fresh air.
Whitby
The seaside town of Whitby offers yet another unique experience – from its picturesque harbour filled with boats bobbing against shorelines overlooked by charming Victorian houses – it's easy to see why this town attracts so many visitors each year. The beach here offers plenty of activities like swimming, surfing, or just taking in some sun on a hot summer day; alternatively, visitors can explore Whitby Abbey or venture further inland, where there are lots more sights awaiting discovery.
The Lake District
One cannot talk about visiting North England without mentioning The Lake District – home to some truly breathtaking scenery, including lakes like Windermere or Derwentwater, which can be explored via boat rides or simply admired from afar while hiking through trails winding around them. The area also boasts ample opportunities for outdoor activities such as rock climbing or horseback riding, depending on what you're into – all surrounded by the breathtaking natural beauty that makes every visit unforgettable.
Hebdon Bridge
For those who prefer something more tranquil than bustling cities or beach towns, Hebdon Bridge provides just that – nestled in between hillsides overlooking valleys filled with lush greenery. Here one can find interesting shops selling everything from antiques and collectables to craft items handmade by local artists – plus many charming cafes and restaurants offering delicious food made using fresh ingredients sourced straight from village farms. It's definitely worth checking out when passing through Yorkshire, too (even if just briefly).
All in all, North England has it all – whether you're looking for a relaxing weekend getaway full of adventure and exploration or just somewhere peaceful with pretty views – this region has something special waiting at every corner! So why not plan your next trip up north today? You won't regret it.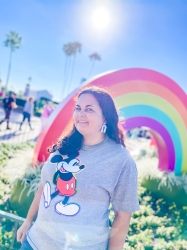 Latest posts by Krystal | Sunny Sweet Days
(see all)