Essential Tips For Home Improvement And Repair Projects This Fall
As we say goodbye to the summer, people everywhere are starting to think about how they can get everything they need fixed or upgraded sorted out before the fall kicks in and we start having to worry about the weather. There are plenty of good reasons why you want to get started early, too, as extreme weather events are becoming more and more frequent. What's more, with costs going up across the board, it's much better to start making fixes now instead of waiting until the last minute when you could be over a barrel in terms of prices.
However, there are some things that are always worth remembering whether you are someone who has done several home renovations or major fixes in your life, or whether this is your very first time. Here are some helpful tips to make sure that everything goes smoothly.
Know How Much You Can Afford To Spend
Given the way things are right now, there are a lot of people out there who are very worried about how much spare cash they are going to have over the winter. Home projects are one of those areas that can get very expensive very quickly if you are not careful. What seems like a routine easy fix can spiral into something that takes out a huge chunk of your savings. So, before you get started, sit down with your partner, and go over your budget. Make sure that you know exactly how much you have to spend. If possible, try to give yourself a cushion just in case there are some unavoidable extra expenses.
Make A Plan And Stick To It
One surefire way for a plan to go over budget and over schedule is not planning properly. There are always going to be delays that you can't anticipate, and Florida residents know that weather can cause serious disruption, but something that you have total control over is what the project is exactly. If you have a list of several different projects that you want to get done this year, separate them into must haves and wants. Then, look at how much time the must haves are going to take you and think very carefully about whether you are going to have enough room in your schedule for any of those additional projects that would be nice but are not essential. This plan will also help any contractors that you bring in, which brings us to our next point.
Find The Right Team For The Job
Now, there are some repairs and projects around the home that are easy enough to do by yourself, or with the help of some willing friends and family. But when it comes to any bigger projects that you are thinking of, it pays to bring in an expert who knows exactly what they are doing. Trying to do a major repair or installation when you do not have the requisite knowledge could not only cost you more money down the line when you have to pay someone to fix your mistakes, but it could also lead to accidents and injuries. Take repairs, for example. A worry that a lot of people in South Florida know very well is that their air conditioning might let them down. If you try to fix it yourself, you could void the warranty and you may end up needing to pay for an entirely new system when the old one could have been fixed. Look for a home services team with experience in the area and with great customer reviews. Beattie Home Services has 48 years of experience, and their work is guaranteed. Get in touch to find out how they can help.
Stay Safe When Working
If you are going to be working on your home improvements and fixes yourself, then one of the most important things that you need to do is to make sure that you are staying safe. There are a lot of different safety hazards involved in these kinds of projects, and the last thing you want is for you or a family member to be hurt during the process. That means being extremely vigilant if you are working near any electricity or gas lines and ensuring that everything that needs to be turned off, is turned off. You should also make sure that you have all of the safety equipment that you need, including gloves, goggles, and hard hats if necessary. You need to keep the area that you are working in free of trash if possible. Finally, you should always avoid working on a major home project alone. Even if your friend just ends up holding the ladder, that is still very important.
Try To Be Eco Friendly Where You Can
One of the major stories of the last few years is climate change. Everyone has seen the changes around us as temperatures have soared. Home improvements and repairs are areas that can create a lot of waste as well as waste energy, so do your best to minimize this where possible. Think about whether you can use recycled or recyclable material on your projects. If you are upgrading your home, think about how you can be more energy efficient. Newer appliances, for example, will have a better energy efficiency rating than their old counterparts. You should also think about how your home can use less water. Drought has been a major issue around the world, and we all need to think about how much we are wasting.
Notify Your Neighbors
One thing about major home projects is that they can tend to get a little noisy. And if you are working in hot weather, you are going to want to start early or finish late where possible. Both of these things are going to be tough on your neighbors, so think about dropping by and letting them know that you will be working and how long you expect the project to last. It is also worth keeping in mind that you may need to notify your local government if your project might impact any neighboring properties.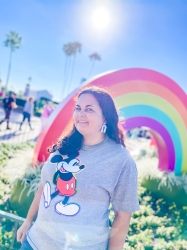 Latest posts by Krystal | Sunny Sweet Days
(see all)