Essential Gadgets Every Parent with a Newborn Should Have
A newborn baby can be a great addition to your family. If you are preparing for one, your family needs to put in measure to ensure that they will be safe and comfortable. Painting their nursery and building a crib are not enough. New parents need to invest in tech products that can make parenthood easier. The following are a few essential tech products that all parents with a newborn should have.
A White Noise Machine
You need a white noise machine to soothe your baby. Low ambient noise can help them relax and fall asleep. There are lots of brands in the market and you can easily find a suitable option. Find a white noise machine that lets you adjust the sounds. It can help your baby sleep peacefully through the night.
A Bottle Sterilizer
A sterilizer for your baby's bottle is a convenient purchase. You will be able to clean the baby's bottle with steam instead of doing it in a dishwasher or sink. One of the main benefits of bottle sterilizers is that they kill germs in less time. If you seal the container, your bottles will remain sterilized for the rest of the day. The sterilizers hold many bottles and you can clean all of them at the same time.
A Baby Monitor
Baby monitors are constantly evolving and you can always find one that matches your needs. Some of them are basic while others have advanced features. Types of baby monitors include audio monitors, wireless network monitors, video + audio monitors, and digital monitors. If you plan on buying a baby monitor, there are a few important things to consider. They include: sound activation, light-up sound indicator, rechargeable batteries, night vision, and multiple portable handset receivers.
When your baby is sleeping in a dark or semi-dark room, the audio/video monitor may be unclear. The night vision feature makes checking on your baby a lot easier. You may be able to control your screen brightness as well.
With the light-up sound indicator, you can monitor the noise level of your baby even when you have your handset volume muted or turned down.
Sound activation is a feature that may turn your speakers on only when the baby cries. You do not need to stay up listening to other sounds in their room.
A Humidifier
A humidifier is a must-have in your baby's nursery. It keeps the air humid and prevents dry air from irritating your baby's throat and nose. A humidifier is especially important in the winter. It may reduce their susceptibility to sickness. Some humidifiers come with a built-in night light and may also act as a white noise machine.
Since humidifiers make the air moist, they may be great for relieving dry and irritated skin. If you live in a dry climate, your baby may have chapped lips, red patches, and tender skin. The dry air may also aggravate the symptoms of eczema and other skin conditions. A humidifier may relieve the symptoms and help your baby retain their soft and clear skin.
Sanitize your humidifier regularly to prevent the build-up of mold and mildew. It takes only 48 hours for mold to cover a damp surface. If you do not follow the cleaning guidelines, your humidifier may be doing more harm than good.
A Smart Thermometer
You no longer need to poke and prod your child to check their temperature especially if you suspect that they may be sick. Smart thermometers are safe and effective. You can attach them to your child's body and connect them to your phone via Bluetooth. This means that you can check their temperature as long as you are within range.
A Stroller Fan
A clip-on stroller fan comes in handy during the summer and hot months. It protects your baby from excessive heat and keeps them comfortable as you take a walk. The fan is great as it can serve as a general desk fan when your baby grows up.
A Vibrating Mattress Pad
Vibrating mattress pads will soothe your baby during playtime and in their sleep. They may help a fussy baby sleep better. They have customizable speeds and may gradually shut off to promote sleep.
If you consider yourself a modern parent, you may be interested in modern gadgets. They make your work as a parent easier and keep your baby comfortable. There are plenty of devices for your baby, and they all have different functions. The most important ones include humidifiers, baby monitors, smart thermometers, and stroller fans.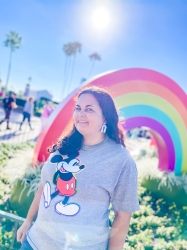 Latest posts by Krystal | Sunny Sweet Days
(see all)