Key Steps to Giving Your Home a Luxe Hotel Vibe in 2023
After spending a lot more time at home than usual over the last few years, many of us are sick of our current décor or want to feel that our home is more of a luxurious and calming oasis than it has been.
If you want to turn your place from chaotic to relaxed and refreshing, think about the vibe you feel when you visit a luxury hotel. You can bring this kind of charm to your property, too, by following the steps below.
Clear Clutter
Top hotels never have too much of a cluttered feel. In fact, they're typically relatively pared back when it comes to items that dress up a room, and they therefore keep things simple and chic. You can go down a similarly uncluttered and purposeful decorating path by removing as many unnecessary items as you can. Only keep the bare essentials in each room that give it a nice blend of function and style, and be sure to give everything a specific place, too.
Plus, it pays to stick with fewer furnishing items than an excess of them. Choose fewer but larger and more luxurious pieces that help to give rooms some dramatic flair without going overboard. Look for items with clean lines, too, and find a way to have one or maximum two statement pieces in one area so there isn't too much visual overwhelm.
Purchase Quality Bedlinen and An Excellent Mattress for the Bedroom
One of the critical factors that often differentiates a luxury hotel from a more standard one is the bedroom setup. If you want to bring a five-star feel to your place, it's important to invest in quality bedlinen and an excellent mattress that will support you and help you rest easy each night. Choose sheets, quilts, and the like made of breathable and natural fibers that are soft to the touch and lovely to snuggle up in. Swap out old threadbare bedlinen for new, high-thread-count options as soon as products become worn, too.
Your mattress should be laid on a supportive base that will help to keep the bed lasting as long as possible. Choose a mattress designed to make it less noticeable when one person rolls over or gets up if you have a partner you sleep with and find it hard to get the deep slumber you want when they disturb you (as you likely do them). If you've had your current mattress for a decade or so, it will definitely be time for an upgrade. The same goes for a mattress style that doesn't suit the way you sleep (e.g., on your side, back, or stomach) or that's too firm or soft for your liking.
Ensure Rooms Can Be Made Temperate
Another element that we all tend to appreciate in luxury hotels is that they're set up to keep us feeling comfortable, temperature-wise. Most accommodation providers ensure they have adequate fans and heaters and reverse-cycle air conditioning to stop guests from becoming too hot or too cold.
You can follow suit with your property by installing ceiling fans with remote controls, adding some HVAC solutions, and putting in a fireplace, gas heater, or other solutions. Choose energy-efficient appliances that are less gas-guzzling, so you can run them as much as you like without having to worry too much about the size of your power bill.
Utilize Moody Lighting Options
Next time you visit a five-star hotel, you'll notice that it is set up to allow a romantic vibe as needed, as well as plenty of illumination to work, read, etc. Hotels are great at creating an alluring atmosphere through lighting by introducing layered options, such as overhead chandeliers, dimmable downlights, floor and table lamps, and sconces.
You can create a similarly flexible setup in your property by installing different types of lighting to be used at different times, depending on what type of mood you want to create.
Stick with a Zen-Like Monochrome Color Palette
While there are, of course, some exceptions, you'll notice that most luxury hotels stick with a relatively simple color palette when decorating rooms. In particular, they usually focus on a monochrome offering to help give spaces a relaxed, calming, and zen-like vibe. To help your home feel hotel-like, opt for a neutral color palette such as whites, grays, blacks, etc.
You can then add pops of color with your accessories, like pillows, vases, candles, artwork, rugs, and so on.
Follow these tips when designing and decorating your home, and you'll soon feel like you're having a mini break away at a luxury hotel, yet with the convenience and cost-savings of being in your own abode.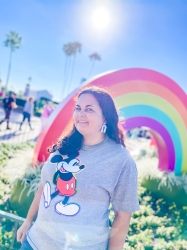 Latest posts by Krystal | Sunny Sweet Days
(see all)