5 Reasons Americans Should Consider Earning An MBA Abroad
You have done your undergraduate in an American university and now want to take an international MBA. Should you enroll in an American university or study abroad? Some American universities offer international MBAs.
You might be lucky to get a brief trip to a foreign country if you enroll in these MBA programs. This might not be what you are looking for. What about learning new languages, a different culture, or even the nightlife of a city far away from America?
Forget about limited applications and theories in American institutions when taking an international MBA. Here are more reasons you should consider earning an MBA abroad.
Affordable Tuition and Simple Funding
You would be surprised at we compare how affordable MBA programs to the United States. If, for instance, you choose to take an international MBA from a top domestic school, you should be prepared to part with at least $150,000 for tuition.
If you look at some of the best business schools in cities such as London and Berlin, you might only be required to pay about $50,000 for tuition. Some of these schools charge even up to half of the total cost charged at top American schools like Harvard Business School.
In addition, funding for students studying abroad is now simple compared to a few years ago. You can qualify for affordable MBA loans from SoFi easily and get enough funding for your MBA abroad. The payment terms are also favorable – you will be done with the repayment before you even know it.
Accelerated Programs Abroad
Before you decide on whether to earn your MBA abroad or locally, look at the time it is going to take you. Most MBA programs abroad will only take you about one year for coursework.
American programs, on the other hand, will require at least two years. You will have to go through rigorous studies throughout the two years. So, do you have all this time to spend studying when you need to start working?
If you want to earn an MBA faster and still learn everything you need to learn, then you should consider earning it abroad. In addition to saving you time, you will have lessened the financial burden you would go through if you studied for two years.
International Career Opportunities
Earning an MBA abroad opens many career opportunities for you. It is important to note that apart from studying abroad, you will also be gaining new experiences, learning new cultures, and different perspectives on business operations.
When foreign investors start businesses in America, they look for employees with international experience. If you earned your MBA abroad, you stand a chance of landing a high-paying job compared to those who earned theirs domestically.
In addition, earning an MBA abroad allows you to study with students from different backgrounds. This is vital in helping you build a strong professional network, something that you need for the success of your career. You can also end up building lifelong international relationships.
Provides a Global Experience and Perspective
Earning your MBA abroad will provide you with global experience and perspective on how businesses operate. Imagine spending one year in a country like Spain. You will learn new cultures, foods, customs, and even languages.
This is more than what you will gain in two years of an MBA in a domestic school. But should you be worried about languages and their barriers? No, you should not. Most business schools use English as their international language.
When it comes to the global perspective, you will be interacting with students from different countries across the globe. You will easily understand how businesses operate in these countries, something that can help you achieve career success.
Helps One to Remain Competitive
American schools are offering hundreds of MBA programs today. This has led to an increased number of MBAs awarded in the last couple of years. It, therefore, means that competition among MBA holders is getting stiff every year.
So, how can you stand out and remain competitive? You can do that by choosing to earn your MBA abroad. This will provide you with immense knowledge of how foreign businesses operate.
You will also gain skills in foreign languages and build a global network, something that domestic MBA holders do not have. This way, you will stand out from your peers and gain a competitive edge over them.
As you can see above, there are many benefits of earning an MBA abroad compared to doing the same domestically. If this is something you have considered, then do not look back.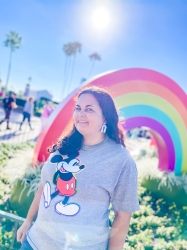 Latest posts by Krystal | Sunny Sweet Days
(see all)