5 Benefits Of Cooking & Baking With Your Children
As a parent, you will always want to find activities that you can enjoy doing with your children. Cooking and baking with your kids is an activity that the whole family can enjoy together, but you will also find that this can bring all kinds of other advantages that everyone can benefit from. You can start cooking and baking with your kids even from a young age and give them bigger tasks and greater responsibilities in the kitchen as they start to age. So, what are the benefits of cooking and baking with your children? Keep reading to find out.
1. A Fun Activity To Enjoy Together
First, you will find that cooking and baking can be a fun activities that will bring you all closer together. Instead of everyone staying in their rooms or glued to a screen, it is a chance to spend time together and have fun. This could be particularly helpful for a foster parent as a way to bond with your child. If fostering is something that you are interested in, you can register your interest with thefca.co.uk, and this is one of the noblest things that you can do in life.
2. Develop A Key Life Skill
Being able to cook for yourself is one of the most important life skills that you can have, but many young people enter adulthood not knowing how to make themselves dinner. This can result in young people eating an unhealthy diet and spending a lot of money on ready meals and fast-food when they leave home. When you cook and bake with your kids, you can teach them how to make their own food, and this will put them in good stead for the future as well as develop their independence and self-confidence.
3. Develop Other Useful Skills
You will also find that cooking will also develop many other useful skills in children. Showing your children how to cook will show them scientific concepts, sharpen their maths skills and even develop their motor skills. Cooking is a mixture of science and creativity, and these are two areas that you will want to develop in your children.
4. Encourage Family Meals
The significance of family meals cannot be overstated, and it is important for bonding, communication, and maintaining a healthy relationship. When you cook with your kids, this will naturally lead to more meals spent together. Food is a fantastic way to bond and could be key if you feel like you are struggling to connect with your children (common in teens).
5. Develop Their Taste
Cooking and baking with kids is also a chance to develop their taste and introduce them to many different types of food. Children can often get very picky when it comes to food and only show interest in unhealthy food, so cooking is a great chance to broaden their horizons and introduce them to all kinds of cuisines and tastes.
As you can see, there are countless benefits to cooking and baking with your kids, and it could be a fun activity that brings you together while developing many important skills.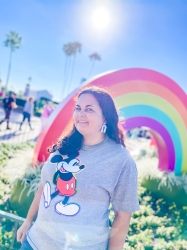 Latest posts by Krystal | Sunny Sweet Days
(see all)