4 Tips for Getting Kids to Eat Their Vegetables
Children are very fussy when it comes to food. While it might be easy to get them to enjoy a big bowl of mac and cheese or a fast-food meal, it might not be as easy to get them to tuck into a healthy serving of carrots and broccoli. As parents, this can be quite frustrating because we want our kids to get a healthy and nutritious diet, but they often don't cooperate with us. The good news is that if you make use of some of these tips, you'll be on your way to giving your kids good, healthy and nutritious servings of fruit and vegetables.
Give Them Fun Names
Most kids will turn their noses up at the mention of broccoli, but according to a study by some clever folk at Cornell University, it might just be a branding problem. The study focuses on school cafeteria lunches and finds that simply renaming these vegetables to something more positive can make a difference in the amount that kids eat. The study suggests names like "X-Ray Vision Carrots" can increase the consumption of vegetables from 32% when called by their regular name to as much as 66% when given a punchier name. Particularly if you're new to parenting, babysitting or planning on applying to foster children via one of the excellent foster care agencies in the country, this simple branding exercise might prove to be very useful!
Serve Them with a Dip
Kids love to play with their food, so give them a reason to. Creating a platter of crunchy raw vegetables like carrot sticks with a delicious dip makes eating the carrots more fun. If your dip is healthy, like hummus, then it's a double win for team vegetables.
Grow Your Own Vegetables
Another way to help your children appreciate their vegetables a bit more is to involve them in how they're grown and harvested. Dedicating a small patch of garden or creating a vertical garden and letting them help you tend to vegetables from seed to ready-to-eat produce might increase their love of leafy greens. Give them ownership of a part of the vegetable garden to make them feel connected to what it produces. An added by-product is, of course, that you're saving on your grocery bill.
Try Different Preparations
It can just be a case of trial and error when it comes to getting kids to enjoy vegetables. If you've tried to serve them steamed vegetables and they've turned their nose up, try a few other ways, like roasted vegetables or even vegetables made into fritters. Vary the way you prepare your vegetables until you find a way that the kids love. You might even start to get requests for them.
Getting enough fruit and vegetables and promoting healthy eating should be something parents instil in their kids from a young age. Helping your kids develop a positive appreciation for vegetables will mean that they're getting a better, healthier and more nutritious diet, which is essential for their growing and developing bodies.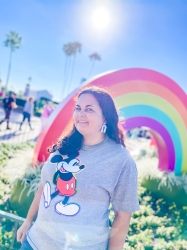 Latest posts by Krystal | Sunny Sweet Days
(see all)