4 Easy Ways To Give Your House a Spring Curb Appeal Makeover
Thinking about giving your home a curb appeal boost this spring? Whether you're planning to sell your property, or you just want to give it a fresh, new look, it's not hard to give the exterior of your house – and your yard – an attractive and budget-friendly makeover. Here are four easy ways to help you do just that.
1. Improve the Lawn
Every homeowner wants that trophy lawn that makes all the neighbors on the block green with envy. Taking the time to care for your grass during the spring growing season helps you get that lush, green lawn that's the cornerstone of great curb appeal. You'll need to feed your grass the right nutrients during the springtime to prime your lawn for healthy growth and keep it healthy during the warm summer months. Your best bet is to consult the professionals – they know how to turn even the most barren lawn into something truly special with lawn care services your home deserves. It's the best investment you can make in terms of strengthening your home's curb appeal.
2. Enhance the Front Entry
Your front entry should be the focal point of your entire home. You don't have to change up the architecture of your house to give this vital area an effective update. Simply give your front door a new coat of paint or stain or replace it if your budget allows. It's also smart to swap out your current porch lights with modern options that run on LED lights – not only do they save energy and provide brighter light, but you're also able to moderate the color to create interesting light effects.
3. Give Everything a Good Cleaning
You'd be surprised at how a thorough cleaning can transform even the most outdated of houses. Cleaning the exterior of your home is an incredibly easy project that can be done in an afternoon. Rent a power washer from your local hardware store or gardening center and give your exterior walls and all paved surfaces a good soak. Once you've done that, do some detail cleaning and wash your windows and trim, too.
4. Plant Living Borders
When you're looking to improve the appearance of your house and yard as a whole, don't forget to give the edges of the yard, and your property lines, some extra attention. Many homeowners forget to address these areas, and they can look pretty barren and unkempt if you don't follow a good landscaping strategy. Even if you don't have the greenest of thumbs, planting floral borders around the edges of your yard is an excellent idea. Use a combination of flowering bulbs, deciduous shrubs and herbaceous plants to create floral borders that have plenty of mass and visual impact. It's a great way to frame your property with healthy vegetation and cheerful color.
As the weather starts warming up, head outside to transform the look of your house and yard. It's a great way to get some exercise, enjoy the great outdoors and build equity in your home all at once! Follow the steps above to give your home a quick spring makeover and some lasting curb appeal.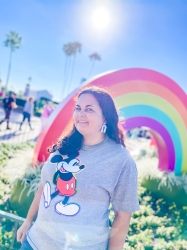 Latest posts by Krystal | Sunny Sweet Days
(see all)