2023 Runway Trends You Can Shop Right Now
As we plunge into the year, the fashion trends we saw last fall at runways are already here, ready to elevate your everyday wardrobe. From elegant sheer dressing to high-octane sequins, the collections from fashion's elite and upcoming designers cover all the bases. Although some designs seem a little out there, they are all undeniably stylish and sure to turn heads.
While bundling up for winter, why not get a head start on your spring and summer wardrobe? Check out the hottest fashion trends for 2023 straight from the runway, and start wearing them now. So, grab your credit card, and let's dive into the must-have trends of the year that you can shop right now.
– The SHEER Joy of Sheer Fabrics
Sheer fabrics (and sheer dressing, for that matter) have been making a splash for a while now, but the spring and summer 2023 runways took the trend to a whole new level. From daring lingerie-inspired pieces to adding pizzazz to a basic slip dress with overlays, sheer designs are the ultimate way to add a little sultry edge to your look.
Fendi's Fall/Winter 2022 collection kicked off the sheer dressing trend and has since increased by nearly every prominent designer and fashion house. If you want to stand out and ditch the traditional miniskirts and low-cut necklines, sheer pieces will undoubtedly fit the bill. They are a chic way to add sexy cred to your outfits without snipping the hemlines.
Styling the sheer clothing trend is all about making a statement. It can be as easy in many cases as letting the sheer piece take all the limelight. For instance, wear a pink sheer maxi dress with an itty-bitty gray cardigan. Finish the ensemble with a simple pair of ankle boots in a nude hue to rev up the glamor factor without overcasting the dress.
– Low-Rise Shorts
The low-rise waist design we loved in the 90s is officially back in vogue. You will see it in 2023 on everything, from suits and jeans to fancy skirts and our beloved shorts. The high-rise might take a backseat for the next few seasons.
The good news is that you can effortlessly rock this look, especially in cute shorts for women. Pair your low-rise women's shorts with a cute crop top to make a statement and show off that midriff. You will be the best dressed in the room.
For a serious confidence boost, consider a combination of neutral-colored low-rise shorts and a lace t-shirt. The combo helps you keep your outfit low profile yet stylish and updated. Elevate the coolness factor of your outfit with a nude leather crossbody bag, fancy sunglasses, and a white straw hat.
– Leather Everywhere
We all know that leather jackets have been a staple on the runway for decades, but this season brought a fresh new take on the classic staple. Designers like Coach sent models down the runway donning oversized, colorful leather jackets. However, the real showstopper was the leather skirt. From mini to maxi, this versatile piece was spotted all over the runways at the New York Fashion Week, with designers like Altuzarra giving it a more structured look and others keeping it short and sweet.
Usually thought of as a fall and winter staple, leather is breaking out of its seasonal mold with the emergence of this trend. Whether paired with a sweater, cardigan, or shirt, leather skirts are versatile and worth investing in this year.
When shopping for leather jackets, the trick is to stick with neutral or nude colors. Then, pairing a rich tan leather jacket and sleek black skinny jeans exudes a relaxed yet sophisticated vibe. Top it off with striking tan leopard suede pumps for the ultimate stylish ensemble.
Unleash your fashion creativity with a versatile tan leather jacket and sleek black skinny jeans. Then, for a daring touch, slip on a pair of sleek black leather espadrilles to take your style to new heights.
– Oversized Blazers
There is no denying our affection for a powerful blazer moment. And this spring, the trend is reaching new heights with oversized versions from designers like Luar and Coach. This bold blazer look will turn heads whether paired with classic denim or coordinating trousers.
One of the best ways to rock oversized blazers is to pair them with sexy leggings. For instance, we love to take a blazer and give it a casual spin by pairing it with leggings. Finish off the look with sleek Chelsea boots, and a stylish and effortless outfit is born.
– Shine Bright like a Diamond [with Sequins]
We know you love a little bling, and what better time to add some sparkle to your wardrobe than in the spring and summer? Forget the traditional December party season; 2023 is about switching things up. This year's sequins are all about soft, pretty colors like pale pink, nude, and pastels.
Styling sequin dresses, skirts, and tops are a cinch, too. A sequin dress paired with a pink coat is a must-have ensemble for fashion enthusiasts who crave ultra-cool outfits. Throw in some black studded leather pumps for a dose of sultry sophistication, and voila – you have a winning combination.
Elevate your brilliant casual style by pairing a sparkling sequin dress with a luxurious black fur jacket. The match is made in fashion heaven and will take your look to the next level. Add a pair of sleek black leather lace-up flat boots to complete the ensemble for a polished finish.
Wrap-Up
The 2023 runway trends are ready to elevate your everyday wardrobe. From elegant sheer dressing to high-octane sequins, the collections from fashion's elite and upcoming designers cover all the bases. The sheer joy of sheer fabrics, low-rise shorts, leather everywhere, and oversized blazers are some of the year's must-have trends you can shop now. These trends are undeniably stylish and sure to turn heads.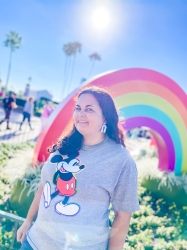 Latest posts by Krystal | Sunny Sweet Days
(see all)