Affordable Ways to Make Your Home a More Relaxing Place
Everyone's home should be somewhere they can relax. It's your sanctuary where you can hide away from the rest of the world and you don't have to deal with any outside problems if you don't want to.
If you're looking for ideas on how to create a relaxing home, many of them can involve expensive bathroom remodels or complete redesigns. But you don't have to spend a lot of money to make your home somewhere you can unwind. There are plenty of affordable ways to create a more relaxing home so you can achieve your goals even if you're on a budget. You might be surprised by how much of a difference a few simple changes can make. Try these ideas to get the relaxing home that you want.
Add Some Plants
One of the best and easiest ways to start making your home more relaxing is to add some plants. Plants have a calming effect just by sitting there, but taking care of them can also be a really relaxing activity. You can choose from various plants, but you will want something that does well indoors. Indoor bonsai trees are a great option and a traditional choice for relaxing spaces. Of course, your plants don't necessarily have to be real. If you're not very confident in your ability to care for them, artificial plants can look just as good and don't need to be watered.
Get Some Warm and Welcoming Textiles
Creating a cozy space will help to make it relaxing. Putting in some warm textiles is a great idea if you want to set up a cozy home that helps you to unwind. You could start with some comfortable throw pillows. If you already have some, consider brightening them up with some new covers. You can even sew some yourself if you think you have the skills. Rugs can be a good addition too and they don't have to cost too much. Although rugs can get expensive, there are affordable ones available too and they can turn your home into a cozier place.
Bring in Relaxing Colors with a Fresh Coat of Paint
Using the right colors in your home is an easy way to make it more relaxing. There are certain theories about what colors are most relaxing, but it's really down to personal choice. If you find a color relaxing and it improves your mood, it's an acceptable color to use. A fresh coat of paint can be a pretty affordable way to bring relaxing colors into your home. You don't have to pay much for a can of paint, and you can do the painting yourself. Another option could be a peel-and-stick wallpaper, which makes decorating quick and easy.
Introduce a Lovely Fragrance to Your Home
You can make your home more relaxing by thinking about all of your senses. A relaxing fragrance is one of the things that can help to make your home somewhere to unwind. There are a few ways you might introduce a fragrance into your home. You can use plug-in air fresheners or reed diffusers. There are essential oil lamps, candles, incense sticks, potpourri, and other options that will give your home the scent that you want. Fresh flowers can also be a lovely fragrance to add to your home, especially if you choose a type that has a stronger scent.
Set Up Some Soothing Lighting
The lighting you choose in your home can help to create relaxing spaces. You don't have to rewire your lighting and add new lighting fixtures if you want to change the lighting. It's easily affordable to add some lamps or even make some changes like adding dimmer switches. When you use lamps at different levels, you can adjust the lighting to your liking. Use warm, soft lighting so that you can lower the lights when you want to unwind in the evening.
Buy a Cheap Water Feature for Soothing Sounds
Another sense that you can think about when designing a relaxing home is your hearing. Hearing soothing sounds can help you to relax more easily, and there are a few ways you might introduce some soothing sounds into your home. One option is a water feature, which will bring the sound of trickling water into your space. Indoor water features don't have to be expensive and they can add something different to a room.
Making your home more relaxing can be done on a budget. Use affordable ways to make some changes and set up your perfect sanctuary.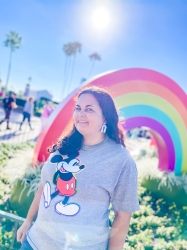 Latest posts by Krystal | Sunny Sweet Days
(see all)