3 Impactful Changes You Should Consider For Your Home
Home is where we feel the safest, and it should also be where we feel the most comfortable. It's something that can take a lot of time to build, and it can be hard to be fully satisfied with the changes you've made. Not only that, but decorating and renovating can be expensive, and you want what you spend to make a big impact on how your home feels. That's why it's important to look for things that are actually going to make a difference about the place before you put down a big investment.
External changes
The outside of your home demands a lot of attention, and it's going to be the most important aspect you should work on. Your home can only protect you from the weather for so long before it needs work done to it. So calling out a residential roofing service to help patch things up is not only worth it for cosmetic appeal, but it's going to be important for protecting the interior of your home. It might be costly, but it will make a difference for both how it looks, and for how it functions. You can't go wrong when it comes to working on the exterior of your house, especially if you're limited on cash.
Your garden
The garden of any home can be used for so many different things and can be functional and beneficial to anyone all throughout the year. For the summertime, the garden makes a great place to host guests and spend your warm days relaxing – which can be difficult if you've never invested time nor money into improving it. Planting flowers and trees, investing in garden furniture, or even getting rid of any unwanted items in the garden are all good ways to make your home more welcoming.
Your garden isn't only there for improving the feel of your home and can offer you much more than that. It can become a fun hobby, as gardening can be time-consuming, yet satisfying. It's therapeutic and rewarding, and something that can be fun to get into all year round. Of course, it's going to take up a lot of your time, but if you're looking for something to do; and interested in growing your own plants it's perfect.
Natural light improvements
As for the inside of your home, one of the most important things you should work on is the natural lighting. It's not easy to redirect natural light around your living space, and you can only have so many windows. However, you can still make some improvements to that without having to make any big changes. Having reflective surfaces and mirrors around your home can help to redirect a lot of that light, and make your rooms feel a lot more lively. A gloomy house can bring a lot of negativity into how you feel, which you should never have to deal with when you're at home! Lighting is something that can always improve how you feel at home.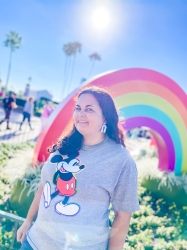 Latest posts by Krystal | Sunny Sweet Days
(see all)