10 Changes for a More Luxurious Bedroom
When we redecorate our homes, many of us are guilty of neglecting our bedrooms. Instead, we focus on the areas of our home that guests see. This can, however, be a mistake. Your bedroom is one of the most important areas in your home. Guests might not spend time in there, but it's your haven. It's the one room in your house that's yours that isn't designed to make other people happy. It's the room where you are free, safe, and protected, and a bedroom that you love can help you to sleep and relax and boost your mood. Adding some luxury to this important space is a way to put your own needs first. 
What is Luxury?
In terms of décor, luxury is quite difficult to define. A luxurious bedroom should be one that you love, with plenty of welcoming and warming touches and elements that make you feel special. This is unique to us all, and there's no set way to create a luxurious space. While the below ideas are all great ways to add luxury, you should think carefully about your needs, your taste, and exactly what you want from your room.
Upgrade Your Carpets
When it comes to adding luxury to your bedroom, texture is incredibly important. Getting out of bed and feeling soft, warm bedroom carpet under your feet first thing in the morning is incredibly luxuriant. If you want an easy way to add luxury, change the bedroom carpet for something that looks great but also feels wonderful.
If you want to add more texture, as well as some colour, adding a rug, or layering rugs, is another easy change that you can make.
Invest in Quality Bed Linens
Another area where texture is incredibly important is your bed. Invest in linens that you love, and that make you smile when you walk into the room, but prioritise soft and comfortable fibres, spending more if you can for a higher thread count.
Overfill Cushions
Upgrade your bed linens further by adding scatter cushions, runners, and even folded chunky blankets. These extra touches make your bedroom warmer, cosier, and more welcoming.
But old floppy cushions will never look as good as well-filled covers that don't sag or sink in the middle. If you can, overfill your cushions to make them look plumper. Another option is putting two cheaper, thinner cushions into one cover.
Frame Wall Hangings
Whether you can afford expensive original artwork, or you are working with prints and even posters, framing the things that you hang on your wall is an easy way to make them look more sophisticated, expensive, and luxurious. You can even frame wallpaper samples or cool sheets of wrapping paper, and as long as they are in a beautiful frame, they'll make your walls look more interesting and add sophistication and elegance to your space.
Add an Ensuite
If your budget allows, and you have the space, adding an ensuite is one of the best ways to add luxury to your bedroom. There are many advantages to an en-suite, and it can make family life easier and more comfortable. Even if you have to lose some space in your bedroom, or give up your walk-in wardrobe, an en-suite, especially one with a tropical shower or spa bath, is a massive upgrade that will make your bedroom feel extra special.
Add Functionality to Your Wardrobes
For many of us, one important element of luxury is ease. No matter how luxurious your décor, or how expensive your furniture is, you'll never feel glamorous if you have to spend ages every morning rooting through a cluttered and untidy wardrobe looking for everything that you need for the day.
Find a homeware store that lets you design your own wardrobe interiors, and make sure you incorporate everything that you need. Things that you could add include a tie or scarf rail that pulls out, drawers, a slide-out shelf, a separate space for trouser hangers, and a longer area for dresses. This will make your life easier and help you to make the most of your space. A self-designed, more functional wardrobe is especially useful if you have a smaller bedroom.
Declutter
Once you've organised your wardrobe, tackle the clutter in the rest of the room for the same results. If your nightstand or dresser are cluttered and untidy, they'll never look their best, and if the mess is taking up floor space, your room will look smaller than it really is. Even unmade beds and untidy piles of blankets look messy and unloved. Add a little luxury by keeping things tidy, and folding blankets on chairs.
Update Light Fixtures
Light shades might seem like a small part of the room, and they will be if you let them. Upgrading to bigger, more interesting shades and fittings helps you to create an eye-catching element. Adding a statement light fitting is an effective way of adding a little glamour. Upgrading or adding lamps, and even pillar candles in vintage holders, can be equally effective.
Add Statement Furniture
Statement furniture creates focus in the room and is a way to show your priorities. A large bed, for example, makes sleep the focus of the space. Beautiful dark wood, antiques, and oversized pieces can all make a statement, and you only need one to make an impression. If you are on a budget, look for replica pieces or spend some time looking in second-hand stores and charity shops for some fantastic bargains.
Bring in Plants and Flowers
There are many advantages to having plants and flowers in your bedroom. They look great, they improve the air quality, and they can improve your mood for a start. If looking after plants isn't something that you are particularly good at, or want to have to worry about, even artificial plants and flowers add luxury, colour, and style.
Can You Have a Luxury Bedroom on a Budget?
Yes, you can have a luxury bedroom on a budget. While some of these changes, like adding an ensuite, can be very expensive, other things, like decluttering, adding rugs and houseplants, and other smaller changes, like organising your drawers can be very cheap and easy ways to add luxury.
While your budget might mean that you can't afford the softest materials and fibres, it doesn't mean that you can make small switches, and add accessories and soft furnishings that you love looking at.
Why It's Worth Creating a Luxurious Bedroom
Your bedroom is a space in your otherwise busy home that is just for you (and perhaps your partner). It's where you start and end your days, and where you are free to be completely yourself. A luxurious bedroom can boost your mood, help you to feel more confident and worthwhile, and even help you to relax and get a good night's sleep. Even if you are on a tight budget, adding a few luxury touches to your bedroom can be worthwhile.
Whatever your budget, finding ways to add some luxury to your bedroom is a great idea. Whether you are going for a full remodel, or just making some changes to your home, make sure this important space is on your to-do list, and not neglected and unloved until it's tired and dated.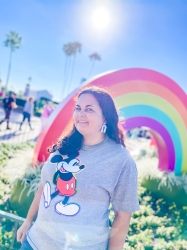 Latest posts by Krystal | Sunny Sweet Days
(see all)