Your Guide To Make Summer 22 One To Remember
A chaotic world makes for turbulent times. The past few years have been unprecedented in the upending of social norms, general expectations, and historical trends. This really is a wild moment for the globe! But things are starting to come back into focus. And as travel options open up, people are craving escapes, vacations, and the opportunities they thought about years ago when they were planning a jam-packed summer. Make that pipe dream a reality this summer!
It's almost time for the sun to set and rise again. The summer is here, with its scorching heat and adventurous spirit. If you are someone who likes to mark every passing season with a new beginning, then the summer is the perfect time for you to do that. With so many new things awaiting us, we need to plan ahead in order to make this summer as special as possible. There are so many things that you can do during this period of time. Read this guide for a perfect bucket list of travel plans, local getaways, and at-home activities to make the summer of 2022 one for the books!
Travel Around the State
International travel might be opening up again, but nothing hits like a classic American road trip. For Floridians, head down to the keys, up to the panhandle, or over to the parks! Spending so much time in one place may have allowed you to discover the hidden gems around your home, but you could still be craving that hit of a sandy beach or thrill-filled waterslide, check out trips nearby. Miami is always a hot summer destination, but look for small towns to get a real break from the hustle and bustle of the rest of the year.
Travel Internationally
Summer is the perfect time to visit another country and experience its culture. Your summer trip could be many things, from visiting family or friends abroad, or going on a study abroad program. If you want to visit family abroad, you can do that at any time of the year, but visiting them during the summer when kids don't have school to worry about, and when it's warm and sunny will make it that much better! You can also choose to travel abroad to visit friends, or on a study abroad program. You can also use the Internet to find out about different places and their availability during the summer.
International destinations are also hotter than ever! Going to Europe is always a popular choice. You could hit the beaches of Greece or the clubs of Ibiza. But going to the underground destinations is a fun way to get off the beaten path. Consider spots in Northern or Central Europe—like Czechia or Austria.
Learn Something New
Summer is a perfect time to learn a new skill. You can enroll in a course for anything—be it painting, dancing, or photography. Studying one of these arts during the summer will not only help you learn a new skill, but it will also provide you with a creative outlet. It will also add to your resume, and you can use your creations to earn some money. Check your local museums or galleries for public workshops or summer-long courses.
You could also choose to enroll in a language course, to learn a new language. Or you can join a club, where you can learn something new, like photography or gardening. If you have been interested in learning a new skill but never got the chance to do so, now is the perfect time to do so.
Try Out a Sport
Summer has perfect weather, so it's the perfect time to try out a new sport. There are many sports that are played during the summer. If you have been interested in learning a new sport, check out your local leagues. People love ultimate frisbee, soccer, or golf in the summer sun. If you want to take it easier, check out bowling for a classic Americana throwback.
You can also choose to take advanced lessons for the sport you have been playing for a long time, or have always been interested in playing. If you don't know what sport to try out, you can ask your friends or family members if they play any sports and if they could teach you or give you tips on how to play it. You can also visit sports facilities near you, and ask them if they have any courses in sports. You can also talk to your school or college about the sports facilities it provides.
Redecorate Your Home
Summer is a great time to add a new touch of color and style to your home. You can paint your room in the color that you love (or just an accent wall), or you can change your decor. If you have been wanting to revamp your room, but don't know how to start, you can look up different ways to do so online. Check out new trends in design, like a light display or a plant terrarium.
If you want to change your decor, you can visit your nearest store, or you can use your creativity and make your own things at home. You can also choose a new theme for your room. If you want to do so, you can look up different themes on websites like Pintrest, and use your creativity to decorate your room. You can also invite your friends over and have a room-decorating party.
Host a Party
Summer is the perfect time to host a party. You can invite your friends and family members over for a barbecue or a pool party. You can even choose to host a themed party! You could go for a summer theme, island theme, pirate theme, or something wacky, like a space theme! You can choose a theme for yourself, and dress up accordingly. If you have been wanting to host a party but have been procrastinating due to work or exams, now is the perfect time to do so. You can also choose to host a themed party if you want to celebrate a certain occasion. Midsummer festivals or Fourth of July parties are some of the most popular.
Meet with Old Friends
Just like an elementary school break, summer is the perfect excuse to meet your old friends. If you have been away from your friends for a long time, or you have been busy with your studies, you can make up for that lost time by meeting them during the summer. Without that obnoxious load of commitments, you can meet up with your friends whenever you want to, and even try something new. You can visit the places near you, or you can even travel to a new place with your friends. You can also choose to meet with your family if you haven't done so in a long time. It will be great to catch up with them again.
The summer is a wonderful time to make new memories, try new things, and to grow as a person. If you follow this guide, you can make this summer as special as possible. You should really just get out of your comfort zone. Trying new things, getting away from home, or changing up the scenery—all of it adds up to an amazing experience. If you follow these steps and make the most out of your summer, you're guaranteed to have an amazing season. Enjoy the sunshine, explore new places, and make new friends (or meet some old ones) along the way!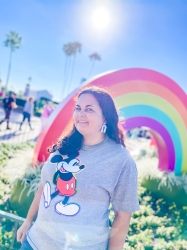 Latest posts by Krystal | Sunny Sweet Days
(see all)