Host a Wine Party on a Budget | 16 Dollar Tree Items Every Wine Lover Must Know About
Do you enjoy wine? If so, did you know that Dollar Tree can help make your wine drinking experience even better? Dollar Tree has all sorts of items for the wine lover, perfect for helping you enjoy your love for wine for less. Take a look below at Dollar Tree items every wine lover must know about! Then of course, share this list with your wine-loving friends.

Host a ladies night wine party at home with just a few supplies that you can find at your local dollar store. From simple to fancy, you are sure to find the items you need to enjoy your night with friends.
1. Chalkboard labels. These are sold in the craft section and perfect for labeling your homemade bottles of wine as well as individual wine glasses when having a party. This way, no one gets their glasses confused. Don't forget to grab chalk too!
2. Wine themed towels. Most Dollar Tree stores have wine themed towels in their housewares section. These are great for cocktail parties or if you have a wine bar, you can hang them on it as well. And again, should you have to grab one and clean up a wine spill, it only cost you a buck!
3. Wine themed placemats. I have been to several stores that carried wine themed placemats. These also can be used under your drinks and appetizers at your next party, or use them to keep surfaces safe on your wine bar. They are colorful and are easy to wipe clean.
4. Coasters.  Dollar Tree carries a nice assortment of coasters, perfect for keeping your table safe. They are sold in packs of two for a buck, making them just .50 cents per piece! Don't like the patterns? You can always paint them or layer washi tape over them to create the style you want.
Wine Cocktail Ideas
5. Cocktail snacks. Hit up the snack aisle for crackers to go with your cheese, cocktail peanuts, and other small snacks perfect for munching on with wine. And if none of these snacks sound good, there is always chocolate! If you love a nice glass of wine, head to Dollar Tree to see all of the must-haves for wine lovers!
Some Dollar Trees have freezer sections with cheese, frozen appetizers, and you can always find crackers and chips in the snack areas! You never know what you will find!
6. Wine Glasses. Wine glasses for a buck? You can't beat that. Your local Dollar Tree has a huge selection of wine glasses, perfect for everyday use or the occasional party. If having a party they are especially great since if one breaks, you are only out a buck. Try grabbing a few and hand painting them if you are so inclined. Setting out the different wine glass designs will add some flair to your table.
7. Wine Glass Charms. Wine glass charms are not only cute jewels that hand from the stem of your glass, they also ensure that no one sips from the wrong drink. Let each guest select the charm that best represents themselves and that they will remember throughout the night – even after a few cocktails.
Or, create your own DIY wine charms!
Hit up the craft supply section for ribbon, wire, beads, and other items that can be easily crafted into wine charms. Get creative with your girlfriends and see what you can create to keep drinks straight!
8. Wine Opener. Don't start the night off rough by not being prepared to open the bottle of wine. Pick up an extra wine bottle opener for only a dollar.
9. Cutting Board. What's a wine party without a cheese tray? Grab a nice wooden cutting board to serve up cheese and crackers.
10. Knife & Serving Utensils – for your cheese and other appetizers.
11. Napkins. Whether you opt for paper napkins or cloth, your local dollar store has several color options for your party.
12. Placecards. Get fancy! You can make your own wine party place cards for your guests by purchasing the supplies at the dollar store. You can find small frames to use in the wedding/party section or purchase wallet size frames from the photo aisle.
13. Photo Frames for Signs. We have talked about all the many uses for dollar store photo frames before, but making personalized signs for your parties is one great way. You can welcome guests or even create signs to title the various wines you are serving or label the appetizers. Paint the photo frames to give them a special touch or buy the glass mirror frames for a nice touch.
14. Wine Glass Tumbler. Hosting your ladies night poolside? The wine glass tumblers are all the rage and you can find them in the aisle with the plastic dishes. It is a wine glass inside a tumbler to prevent spilling while still feeling like you are drinking from a wine glass. They even come in various colors and your guests could keep them after the night is over.
15. Candles. Don't forget to add some candles to your wine party decor.
16. Vase. While at the store picking up the wine, grab some fresh cut flowers to add to your dollar store vase for your party centerpiece.
Which wine will you be serving at your ladies night? Have a favorite appetizer recipe? Share with us in the comments below and join the conversation on our Facebook page!
More Wine Party Ideas
Like beer instead?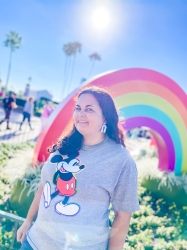 Latest posts by Krystal | Sunny Sweet Days
(see all)